Romania minister suggests EU work permits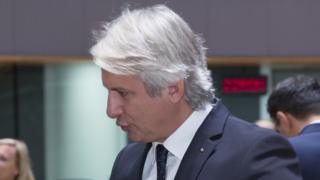 Romania's Finance Minister Eugen Teodorovici has come under fire for apparently suggesting that the right to movement in the EU should be limited.
Many young skilled Romanians emigrate for better employment prospects, resulting in a falling population.
Mr Teodorovici suggested that Romanians be issued with a single five-year work permit, after which they would have to leave - and possibly return home.
However, he has since said his words were misunderstood.
In parliament, Mr Teodorovici said that "we need to learn at the European level that as one area becomes poorer, another becomes richer".
"You should not be allowed, after the first permit, to renew your right to work - to be forced to migrate to Europe," he said. "So if someone goes to Germany and keeps getting the right to work, then he will never return to Croatia or Romania, where he left.
"Five years maximum - bye-bye, then you go to another country and look for a job."
He also said he had raised this idea with his counterparts in other EU countries.
The right to freedom of movement is one of the four "pillars" of the European Union, which Romania joined in 2007. Initial restrictions on Romanian citizens' right to work in some countries expired by 2014.
Since joining the EU, Romania's population has fallen by 1-1.5 million, furthering what is seen as a "brain drain" in some industries. At the same time, an ageing population - with its increased healthcare and pension needs - has fewer young working taxpayers to support it.
But Mr Teodorovici's comments - recorded by a Romanian news outlet and widely reported - caused uproar among many, including political adversaries who called for his resignation.
In a post on Facebook, the finance minister aimed to clarify his remarks, which he said were made in the context of a debate on Romania's "acute labour force crisis", which had seen hundreds of thousands of young Romanians leave their homeland.
He said his suggestion was not to limit Romanian citizens' actions to other countries, but rather to achieve equality and promote Romanian interests.
"I will never question the four fundamental freedoms on which the EU is based," he wrote - but added that he had to raise the problems Romania faced of diminished economic growth and development as a result of emigration.
The problem had to be taken into account by other European nations, he argued - including financial support for schemes "to encourage the return of the labour force to their countries of origin."