Greek court suspends cleaner's 10-year jail term over CV lie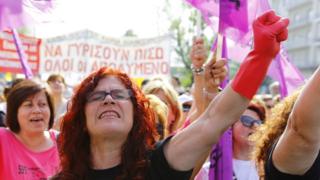 A Greek appeals court has suspended the 10-year prison sentence imposed on a school cleaner for lying on her CV.
Earlier this month a regional court found the 53-year-old, who worked at a nursery school for 15 years, guilty of defrauding the public sector.
It emerged she had completed five years of primary school instead of six as required. The case has caused uproar.
The appeals court released her on humanitarian grounds pending a review of the conviction by the Supreme Court.
In recent years, cleaners in highly-indebted Greece have been prominent in protests against austerity policies. Many clashed with police after their jobs were cut.
On Wednesday the court in the town of Larissa "accepted the petition for a suspension", the woman's lawyer told journalists. "That means (she) will today leave jail."
The discrepancy in the unnamed cleaner's educational record was discovered during a review in 2014.
In the past it was not unusual for Greek schoolchildren to be forced out of education by poverty, especially in rural areas.
When she received the 10-year sentence, the Hellenic League for Human Rights called the ruling "simply inhuman".