Italian deputy PM Salvini confronted over girls' photo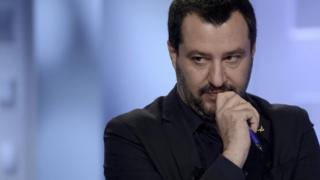 Italy's populist deputy PM Matteo Salvini has been confronted after he shared a picture of three young female protesters on Facebook.
Former parliamentary speaker Laura Boldrini demanded that Mr Salvini remove the post.
She asked him how he could "expose the three underage girls" to criticism and abusive comments from his supporters.
The girls were at a "No Salvini day" protest in the city of Milan earlier this month.
Mr Salvini's right-wing and anti-immigration League party is in a coalition government with the populist Five Star party.
In a video posted by Ms Boldrini, Mr Salvini defends his decision to criticise the protesters, reported by Italian media to be minors.
He points out that they were holding placards referring to the Piazzale Loreto, the location where the body of Italy's World War Two dictator Benito Mussolini was put on display in April 1945.
Ms Boldrini tells Mr Salvini that she disagrees with the message, but urges him to be "responsible" after the young protestors were subject to criticism and abuse on social media - with some of the more extreme comments calling for them to "take up prostitution" or "be raped".
This prompted others to speak up in their defence, with one commenter asking if Mr Salvini was aware of the comments on his post.
"Do you realise what your voters write about these girls?" Rosa Pascale from the town of Ragusa in Sicily wrote. "As a father, they don't bother you? Aren't you worried about what could happen to them?"
Ms Boldrini has taken the issue to parliament, asking Mr Salvini to at least delete the comments from the post, if not the image itself.
Mr Salvini and Ms Boldrini have clashed before, with the former parliament speaker regularly criticising Mr Salvini's policies.
In 2016 Mr Salvini compared Ms Boldrini to an inflatable sex doll at a Northern League party rally, Ansa news agency reported.
By Tom Gerken & Mauro Galluzzo