Irish farmer jailed for killing neighbour with machinery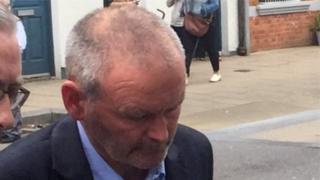 An Irish farmer has been jailed for killing a neighbour with a piece of farm machinery during a row about a device intended to scare crows.
Michael Ferris, 63, from Ratoo, near Ballyduff in County Kerry, told gardaí (Irish police) he "just snapped" before he attacked Anthony O'Mahony.
The Central Criminal Court in Dublin was told that the attack on 4 April 2017 was "gruesome" and "horrific".
Ferris was given a five-year prison sentence for manslaughter.
The farmer had been found guilty by a jury in October.
'Caused horrific injuries'
Ferris said his 73-year-old neighbour had deployed a "crow banger" for three decades and had ignored repeated requests to stop using it.
It was a gas-powered device that went off every four-and-a-half minutes, with the repetitive loud noise angering neighbours.
The defendant used an agricultural machine with a telescopic boom to block a rural road and then drove its prongs into Mr O'Mahony's car.
Irish national broadcaster RTÉ reported that at sentencing on Monday, the judge said the attack had caused "horrific injuries" to Mr O'Mahony and defied belief.
Ferris told police he "had to do something about" the banger and during the trial other neighbours gave evidence of the stress caused by the device over the years.
'Brutal and violent'
The judge said she would be reducing the sentence from 12 years to six in light of various factors, including Ferris's age, his clear criminal record and the fact he had immediately accepted his responsibility and apologised for his actions.
The final year of the six-year sentence will be suspended.
Outside the court, Mr O'Mahony's family reacted angrily to the "lenient" sentence, saying that their pain had been "exacerbated" by it.
"The trial was a deeply distressing and painful ordeal for our family," said his niece Ann O'Carroll.
"Our brother, uncle and friend was taken from us in the most brutal and violent way possible.
"This pain was made worse by the blackening of Anthony's good name and character during the trial when he was not there to defend himself."