Dublin Christmas drugs seizures nets £3.6m haul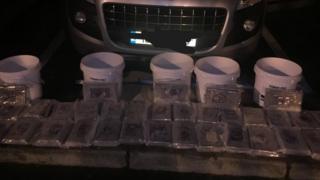 Six people have been arrested after Irish police seized drugs with a total street value of 4m euros (£3.6m) in three separate operations in Dublin.
The seizures were made by gardaí (Irish police) on Thursday.
Asst Garda Commissioner John O'Driscoll told Irish broadcaster RTÉ that police were aware of an increased demand for drugs in the run-up to Christmas.
He said as a result they targeted particular criminal gangs through intelligence-based investigations.
Police said key figures in organised crime gangs had been put under surveillance, including the Kinahan gang.
The seizures included:
2.8m euros (£2.5m) worth of suspected cocaine in a car park in Liffey Valley at about 19:10 on Thursday
A large quantity of cannabis herb with an approximate street value of 800,000 euros (£713,000) from a vehicle in Rathcoole at about 18:30
Cannabis worth an estimated 200,000 euros (£178,000) during a house search in the Finglas area at about 19:00
Irish police arrested three men and a woman, who are all in their 40s, on suspicion of drug trafficking offences over the haul of suspected cocaine.
50,000 euros (£45,000) was recovered in a follow-up search in County Meath.
A man in his 40s was arrested over the cannabis herb seizure in Rathcoole while a man in his 20s was arrested following the operation in Finglas.