Patel comments on no-deal Brexit in Ireland criticised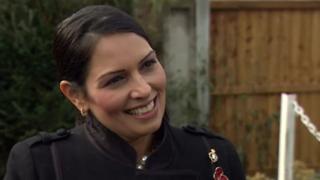 A Tory MP's suggestion that the economic impact of a no-deal Brexit on the Republic of Ireland could encourage the EU to drop the backstop has been widely criticised.
However, Priti Patel said her comments "have been taken out of context".
A government report, leaked to the Times, indicated that there could be food shortages in Ireland in the event of a no-deal Brexit.
It said the economic impact on Ireland would be worse than in the UK.
The report indicated that there would be a 7% drop in GDP for Ireland.
The equivalent UK drop would be 5%.
Speaking to The Times, Conservative MP Priti Patel said such warnings should have been used in negotiations as leverage against the Republic of Ireland to encourage them to drop the backstop.
'Significant issues'
"This paper appears to show the government were well aware Ireland will face significant issues in a no-deal scenario. Why hasn't this point been pressed home during negotiations?
"There is still time to go back to Brussels and get a better deal."
Speaking to the Irish Examiner, the Tanáiste (Ireland's deputy prime minister) Simon Coveney said Ms Patel's comments were "ridiculous".
Her words were interpreted by some as insensitive given Ireland's history.
Alliance Party leader Naomi Long tweeted: "This kind of comment from MPs like Priti Patel demonstrate not only profound ignorance of and insensitivity about our history but also reckless indifference to the impact on relations today."
Elsewhere on Twitter, SDLP MLA Claire Hanna delivered a sharp rebuke to Ms Patel's comments.
"The warped and spectacularly ignorant mind of Brexit, alongside the evil approach to Ireland is the failure to grasp that this is about the most food secure island in the world," the South Belfast MLA wrote.
Former Sinn Féin Irish presidential candidate Liadh Ní Riada MEP accused Ms Patel of using the "threat of food shortages in Ireland" to force a change in Ireland's policy on the backstop - which she said was "despicable".
Priti Patel resigned as UK international development secretary in November last year amid controversy over her unauthorised meetings with Israeli officials.
The BBC asked Ms Patel for a response to the criticism but none was received.