Leo Varadkar condemns Roscommon 'violent vigilante attack'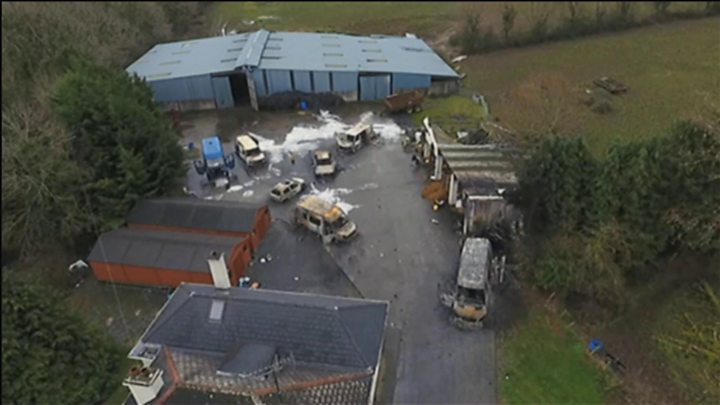 Irish Prime Minister Leo Varadkar has condemned an attack at a house in County Roscommon in which eight security guards were injured.
Mr Varadkar said it appeared to have been a "very highly organised, highly violent vigilante attack".
It happened at about 05:30 local time at a recently repossessed house in Falsk near Strokestown.
A large number of men in high-visibility jackets arrived and attacked the security guards with baseball bats.
Four vehicles were also burned out and a guard dog killed.
Three of the eight people who were injured required hospital treatment.
Ciaran Mullooly, the Midlands correspondent for Irish national broadcaster RTÉ, said a security firm from Northern Ireland had been involved in an eviction at the property on Tuesday after a court order that day.
He told BBC Radio Ulster's Good Morning Ulster programme that "up to 20 people" took part in the attack on Sunday.
The farm and house have been sealed off and gardaí (Irish police) have started a criminal investigation.
Condemning the attack, Mr Varadkar said: "I don't think anybody likes to see somebody being evicted or losing their property, especially in the run-up to Christmas.
"But if it was done on the basis of a court order I can only assume the judge heard all sides of the story and made the decision that he did.
"Leaving aside the reasons for the eviction, I think all of us have to condemn unreservedly the use of violence.
"In this instance, individuals being injured, an animal was killed, property destroyed.
"It would seem that it was very highly organised, highly violent vigilante attack - two of the men who were injured have been discharged from hospital.
A third man, who was being treated for injuries to his head and leg, is expected to stay in hospital overnight.
A Garda Síochána (Irish police force) spokesman said officers were investigating an incident of criminal damage and assault at a house at Falsk.
KBC Bank Ireland, which was involved in the original repossession, told RTÉ it was aware of the incident but said it was a matter for the Garda.