Catalan protests as Spanish cabinet meets in Barcelona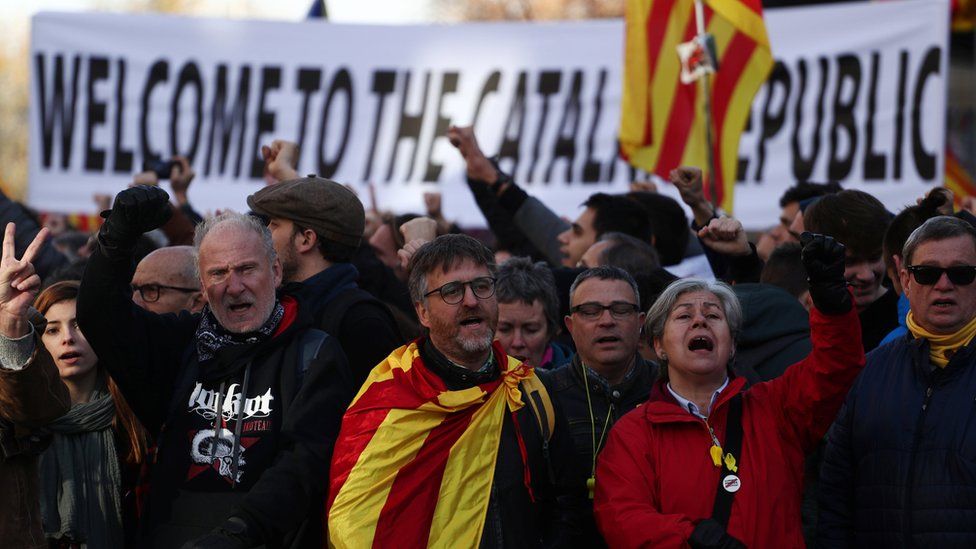 Catalan separatists have blocked roads and clashed with police as Spanish ministers held a cabinet meeting in the regional capital Barcelona.
The decision to move the meeting was aimed at reducing tensions, months after Catalan leaders were jailed for trying to break away from Spain.
Prime Minister Pedro Sánchez and Catalan leader Quim Torra agreed on Thursday to an "effective dialogue".
But there were violent scenes near the venue where the cabinet assembled.
Friday's meeting was convened exactly a year after the previous Spanish government held snap elections in Catalonia, a decision seen as provocative by pro-independence groups.
Earlier in the day, more than 20 roads across Catalonia, including the AP7 and A2 motorways, were blocked by protesters as police were deployed in large numbers. The protests were co-ordinated by a radical group, the Committees for the Defence of the Republic (CDRs).
On the AP7, which runs along the Mediterranean coast, protesters sat on the road with their hands in the air. Police dragged them from the carriageway.
As the cabinet meeting got under way, there were clashes between police and protesters in the centre of Barcelona.
Riot police were pelted with objects as they dismantled a barricade thrown up across one of the main streets. About 1,000 protesters nearby were held back by a police cordon.
At tensions rose, officers wielding batons charged protesters and at least four people were arrested. The regional police force, Mossos d'Esquadra, said one man was detained for carrying materials that could be used to make an explosive device.
City health officials said 51 people had been treated for injuries, 30 of them police officers.
Meanwhile, a crowd of several thousand people protested peacefully near Barcelona's Franca rail station. Some held banners reading: "Occupying forces, out."
One of the demonstrators, Carles Serra, 45, said the timing of the cabinet meeting was a provocation by Madrid.
The CDRs had urged supporters to surround the Llotja de Mar complex in Barcelona where the cabinet was meeting, but they were held back by police, Spanish media reported.
Why are protesters so angry with the PM?
Analysis by Guy Hedgecoe, BBC News, Barcelona
Pedro Sánchez originally planned this visit as an opportunity to show his commitment to improving the lives of Catalans. It is not the first time he has held a cabinet meeting outside Madrid - in October, he met with his ministers in Seville.
But the timing of the visit has angered many pro-independence Catalans. The previous Spanish government of Mariano Rajoy called an election in the region exactly a year ago after introducing direct rule there, and so the date has become a sensitive one.
Also, although Mr Sánchez has taken a number of initiatives aimed at restoring confidence between Madrid and the region, many Catalans believe he has not done enough and is merely continuing the rigid policies of Mr Rajoy.
They want him to negotiate the staging of a formal independence referendum and to free nine jailed Catalan politicians, but he says the law allows him to do neither.
On Thursday evening, Mr Sánchez and the Catalan leader held a symbolic meeting and issued a declaration, pledging their "commitment to an effective dialogue that conveys a political proposal with broad support in Catalan society".
A follow-up meeting between Spain's vice-president and her Catalan opposite number is to take place next month.
Mr Sánchez came to power as the head of a minority Socialist government in June.
During the meeting, he decreed a 22% increase in Spain's minimum monthly wage from €736 ($835; £665) to €900, effective from January.
"This is the biggest rise in the minimum wage since 1977 and it will benefit more than 2.5 million people, mostly women," government spokeswoman Isabel Celaa told reporters after the meeting.
Catalonia held its disputed vote on 1 October 2017 and its separatist government declared independence on 27 October.
But Spain's constitutional court deemed the referendum illegal and Madrid imposed direct rule.
Catalonia's then leader Carles Puigdemont fled into exile in Belgium after the failed independence bid. Other Catalan leaders also fled abroad.
Spain's Supreme Court has since withdrawn its European Arrest Warrants against Mr Puigdemont and five of his aides who remain in other countries. But the charges against them have not been dropped, meaning they still face arrest if they return to Spain.
Nine former Catalan leaders are in jail awaiting trial for rebellion and other charges linked to the independence referendum. Four of them - Jordi Turull, Josep Rull, Jordi Sanchez and Joaquim Forn - ended a 20-day hunger strike on the eve of the cabinet meeting in Barcelona.