Hungary removes statue of anti-Soviet hero Imre Nagy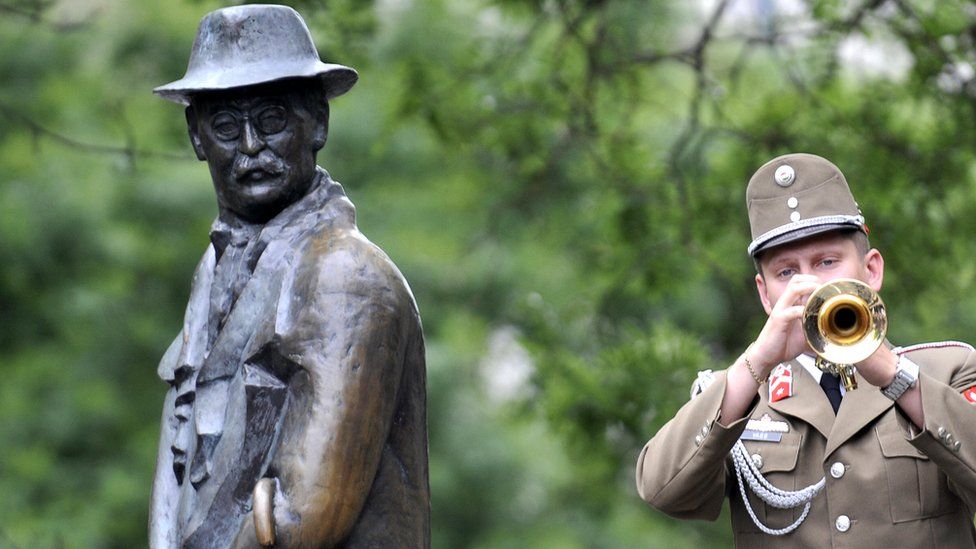 The Hungarian authorities have removed a much-loved statue of Imre Nagy, hero of the 1956 anti-Soviet uprising, from a square in central Budapest.
The Nagy statue is being moved to Jaszai Mari Square, a northern location away from the parliament building.
Some critics accuse Prime Minister Viktor Orban's nationalist government of revising the country's history.
A monument to the victims of a short-lived communist regime in 1919 will replace the Nagy statue.
Imre Nagy was hanged in 1958 for his role in the uprising. A pro-reform communist, he had sought to free Hungary of hardline communist rule, but in 1956 the revolt was crushed by Soviet tanks. Pro-Moscow hardliners were reinstalled in power.
The statue was erected in 1996 at Martyrs' Square.
But in recent years Mr Orban has forged closer ties with Russian President Vladimir Putin, a former KGB officer who has restored Soviet-era symbols and who regrets the collapse of the USSR.
The new monument at Martyrs' Square will replicate one that stood there during the pro-Nazi rule of wartime Admiral Miklos Horthy, who fuelled anti-Semitism.
Nagy's granddaughter Katalin Janosi is among those opposed to the square's redevelopment.
Mr Orban's supporters say the aim is to return parts of the capital to their pre-World War Two appearance, before the decades of communist rule.
There have been many tweets protesting at the disappearance of the Nagy statue.