Canadian tourist rape: Paris police jailed for seven years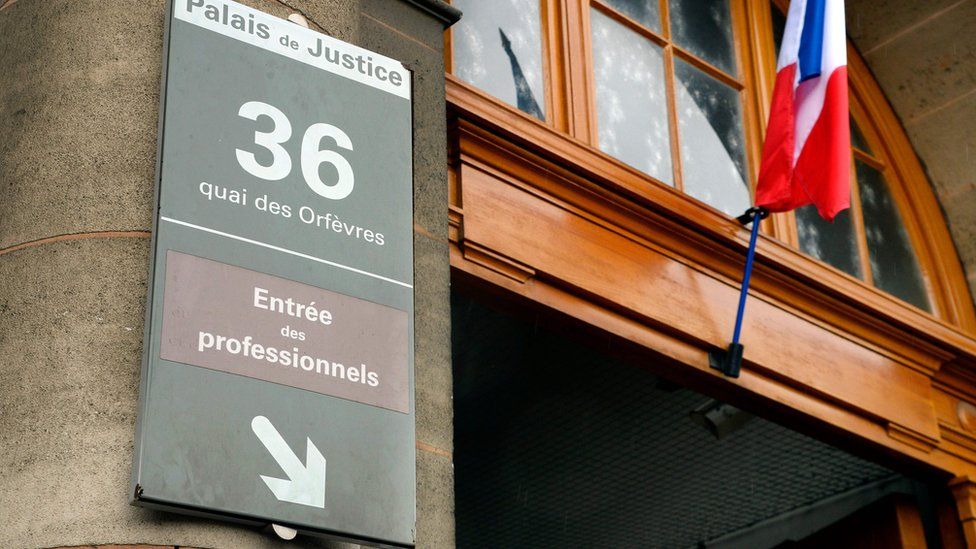 Two police officers have been found guilty of raping a Canadian woman at a renowned Paris police headquarters in 2014.
They were both jailed for seven years by a Paris court, three years after the case was thrown out in another trial.
Emily Spanton, 39, waived her right to anonymity to pursue the case.
She told the trial she had been invited to tour the police HQ after meeting a group of officers in a bar, but when she went there she was gang-raped.
The headquarters, based at 36 Quai des Orfèvres in Paris, is legendary for its role in French crime literature and film.
The two men, Nicolas Redouane and Antoine Quirin - former members of France's elite BRI anti-gang force - had always maintained their innocence. They argued Ms Spanton had consented to sex.
Five years after her claim of having been gang-raped in the prestigious 36 Quai D'Orfèvres was dismissed, Spanton is sitting in tears, a few meters away from the men who abused her.
One of the accused cops is shaking his head in disbelief and also crying.#procès36

— Daniele Hamamdjian (@DHamamdjian) January 31, 2019
The court was convinced by the "consistent statements of the victim" and by scientific and technical evidence provided by DNA and phone records, the president of the court said.
The case has received wide coverage in France, which like many countries has been debating sexual assault and the Me Too movement.
Ms Spanton's lawyer, Sophie Obadia, told reporters the verdict showed that a victim's private life should not be a consideration in rape cases.
"Finally, in France, it is accepted that a woman who has been raped does not have to justify her private life," she said.
"The court considered that Ms. Spanton had not lied, that she is not a person who lies, and based its decision on objective elements of this case, not the word of one person against the word of the accused."
What happened at the police HQ?
Ms Spanton, the daughter of a Canadian ex-detective, had been in an Irish pub late at night on 22 April 2014 when she met three police officers from the "36", as the historic judicial police building is known.
They offered to show her the HQ and at 00:40 that night CCTV showed her walking in with both men after smoking a cigarette. What happened next on the fifth floor has been disputed ever since.
By 02:00 she was in a state of shock. Ms Spanton said she was raped in two offices, involving three men in total. She has never identified the third man.
Medical examinations showed she was drunk at the time of the rape. The two officers have always disputed her accusations and a lawyer for one of the men said that DNA traces did not prove rape.
However, a guard on duty told the trial that he saw her shortly afterwards in tears, saying that she had been raped by several officers. He then alerted his superiors.
The case was initially thrown out, but the Paris prosecutor and Ms Spanton took it to appeal and the trial took place almost five years later.
The two officers will have to pay the victim €20,000 (£17,500; $22,900) in damages. Both men can still appeal.
Ms Spanton did not glance at either of the two accused while the judgment was being read, reports say.
Her Toronto-based lawyer Howard Rubel told the BBC: "My client is of course very relieved with the verdict and is glad that she withstood the very arduous process that led to today.
"She is glad that she did her part in allowing justice to unfold."