Hungary tries for baby boom with tax breaks and loan forgiveness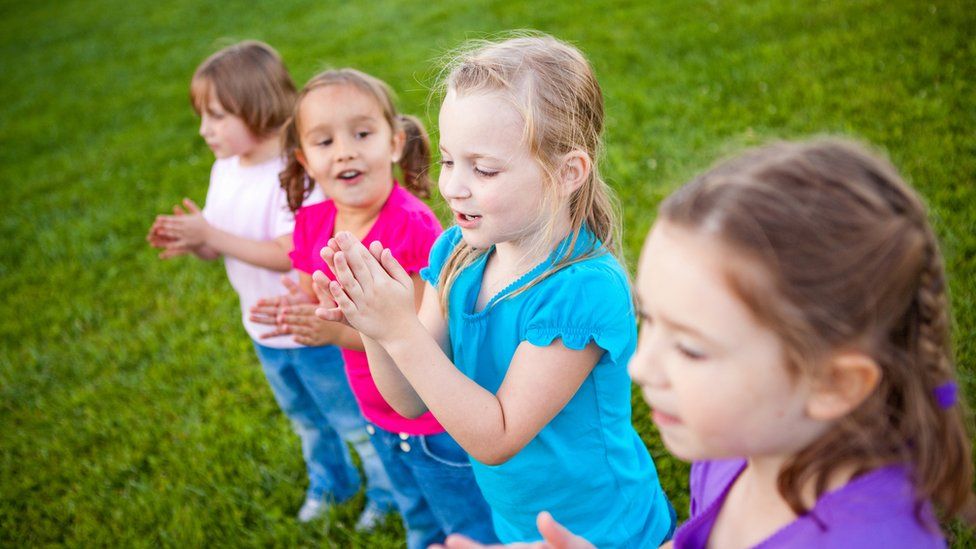 Hungarian women with four children or more will be exempted for life from paying income tax, the prime minister has said, unveiling plans designed to boost the number of babies being born.
It was a way of defending Hungary's future without depending on immigration, Viktor Orban said.
The right-wing nationalist particularly opposes immigration by Muslims.
Hungary's population is falling by 32,000 a year. Women there have fewer children than the EU average.
As part of the measures, young couples will be offered interest-free loans of 10m forint (£27,400; $36,000), to be cancelled once they have three children.
Mr Orban said that "for the West", the answer to falling birth rates in Europe was immigration: "For every missing child, there should be one coming in and then the numbers will be fine.
"Hungarian people think differently," he said. "We do not need numbers. We need Hungarian children."
While Mr Orban was delivering his state of the nation address, the latest demonstrations were being held in Budapest against his government's policies.
About 2,000 people gathered in front of his office, while others blocked one of the main bridges across the Danube river.
Correspondents say the biggest applause during Mr Orban's speech was for his announcement of a seven-point plan to increase the birth rate.
Other points in the government's plan include:
A pledge to create 21,000 nursery places over the next three years
An extra $2.5bn to be spent on the country's healthcare system
Housing subsidies
State support for those buying seven-seat vehicles
Mr Orban finished his speech with: "Long live Hungary and long live the Hungarians!"
The average number of children a Hungarian woman will have in her lifetime (fertility rate) is 1.45. This puts the country below the EU average of 1.58.
Niger, in West Africa, has the highest fertility rate in the world, with 7.24 children per woman.
Increasing birth rate 'very difficult'
The BBC's Nick Thorpe in Budapest writes:
Critics of the government say its package and pro-family policy so far target well-off families and ignore the Hungarian poor, including an estimated 750,000 Roma (Gypsies). Tax relief does little to help families who pay little tax anyway.
Housing subsidies of €35,000 (£30,666) were offered to families able to invest a similar sum of their own - but few Roma have such savings.
The nationalist Fidesz government has cut welfare payments and reduced the number of months those made unemployed can claim for.
The population has been falling steadily, from a peak of 10.7 million in 1980, to below 9.7 million today.
About 600,000 Hungarians have moved to western Europe in the past decade - it is impossible to calculate how many will return.
"Increasing the number of births is very difficult, because we have less and less women of child-bearing age," State Secretary for Families Katalin Novak told the BBC. That number is set to fall by 20% in the next decade. "So less and less women need to have more and more babies."
The government's new package, she emphasised, is based on the number of babies couples would actually like to have, and then to encourage them with financial help. The aim is to increase the fertility rate to 2.1 by 2030.
How do other countries help mothers?
Many other countries with relatively low birth rates have introduced extra payments and other benefits for mothers.
Russia's birth rate has been declining for decades: the population fell from 149m in 1991 to 140m in 2018, and the median age has risen from 33 to 39.
So, to help the poorest families, in March 2018 the government announced monthly payments of 10-11,000 roubles (£118-£130; $152-$167) until their first child reached 18 months old. A poor family also gets a one-off payment of 300,000 roubles for each additional child born.
Serbia, one of Hungary's neighbours, has one of the world's fastest-shrinking populations. It has seven million people and a median age of 43.
Last March it announced that new mothers would get a one-off payment worth £740 ($956) for their first child, monthly payments of £74 ($96) for the second child for two years, and further payments for three or more children.
The birth rate in Italy is among Europe's lowest, along with Cyprus and Spain. Italy gives mothers an allowance of €80 per month (£70; $90) for each child born. The poorest families get a monthly allowance of €160 per child.
In Germany more babies were born in 2016 than in any year since 1996. But Germany has also put more incentives in place for couples to have children. Parents have a legal right to a nursery place once their child is one year old.
Germany has a new law, the "Good KiTa Act", granting lower childcare fees for parents who cannot afford the full price, and a fee exemption for parents who receive a child allowance and housing benefits.
Low birth rates are also worrying governments in East Asia.
The marriage rate in South Korea is at its lowest since records began - 5.5 per 1,000 people, compared with 9.2 in 1970 - and very few children are born outside marriage.
According to World Bank data for 2016, just a few countries, including Singapore and Moldova, have a fertility rate as low as South Korea's - 1.2 per woman. The replacement rate - the number needed for a population to remain level - is 2.1.
Fertility rates are also low in China (1.6) and Japan (1.4).