Holocaust: Israel summit scrapped in 'racism' row with Poland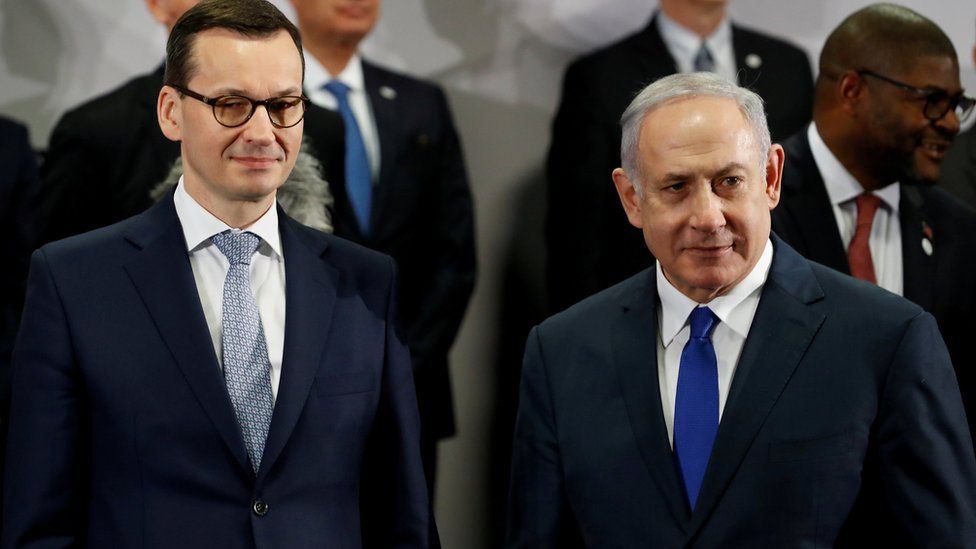 A summit of central European leaders in Israel has been cancelled because of an Israel-Poland row over the Holocaust.
Poland withdrew after being angered by comments from Israeli leaders about Polish complicity in the Holocaust.
In particular, Israel's acting Foreign Minister Yisrael Katz used the phrase, "Poles imbibe anti-Semitism with their mother's milk".
Nazi Germany murdered six million Jews, mostly in Poland. Some Poles did collaborate with the Nazis.
Mr Katz's remarks were "racist and unacceptable", Polish Prime Minister Mateusz Morawiecki said.
There was also Polish fury at Israeli Prime Minister Benjamin Netanyahu for saying "Poles co-operated with the Germans" during the Holocaust.
About six million Polish citizens died in World War Two, of whom about three million were Jews.
The meeting hosted by Israel was meant to bring together the four-nation Visegrad Group: Poland, the Czech Republic, Hungary and Slovakia.
But on Monday Israel said the three prime ministers attending - without Poland - would have bilateral meetings with Mr Netanyahu.
"It will not be called Visegrad, because this entails the presence of all four," an Israeli spokesperson said. "It's going to be a summit with Visegrad members."
The Polish government says its withdrawal is "an unequivocal signal to other governments and international opinion that historical truth is fundamental".
Netanyahu's EU strategy backfires
By BBC Jerusalem correspondent Tom Bateman
Mr Netanyahu has spent the last decade in office watching a wave of populist leaders come to prominence around the world.
He has often embraced the rise of politicians who - mirroring his own impact on Israeli politics - combined muscular self-interest in foreign policy with attacks on established "elites" or the media at home.
In the Visegrad Four leaders he saw a potent counterweight within the EU to what he believes is the bloc's anti-Israel stance.
But for many critics in Israel this approach was always bound to backfire.
They saw him as cosying up to a nationalist government in Poland they believed had tried to diminish the widespread cases of Polish collaboration with the Nazis during the Holocaust. And in the case of Viktor Orban in Hungary - to a leader accused by Jews in his own country of anti-Semitism.
What caused this escalation?
There is long-running tension between Poland's conservative government and Israel over the Holocaust.
Last year a Polish law made it an offence to allege that the Polish nation was complicit in Nazi crimes.
Prime Minister Morawiecki then suggested that some Jews were willing collaborators in the Holocaust, provoking a furious response in Israel.
He told a journalist at the Munich Security Conference in February 2018: "Of course it's not going to be punishable, [it's] not going to be seen as criminal to say that there were Polish perpetrators, as there were Jewish perpetrators, as there were Russian perpetrators, as there were Ukrainian; not only German perpetrators," he said.
On Sunday, Israel's acting Foreign Minister Yisrael Katz said "Poles imbibe anti-Semitism with their mother's milk", quoting the late Israeli Prime Minister, Yitzhak Shamir.
That in turn enraged Poland, which summoned Israeli ambassador Anne Azari to be warned that Poland could boycott the Visegrad summit.
Mr Morawiecki then pulled out, saying of Mr Katz's remarks: "These words are unacceptable both in diplomatic and public terms. Poles suffered [from Nazi Germany] the most, along with Jews and Roma [Gypsies]." On Monday Poland withdrew from the summit completely.
Research shows that thousands of Poles collaborated with the Nazis; but many other Poles risked their lives to help Jews - a fact recognised by Israel's Yad Vashem remembrance centre.
The Nazis built many of their most notorious death camps in Poland after occupying the country at the beginning of the war in 1939.
The Polish government argues that for too long Poles have been wrongly linked to crimes committed by Nazi Germany on Polish territory.