Macron announces crackdown on anti-Semitism in France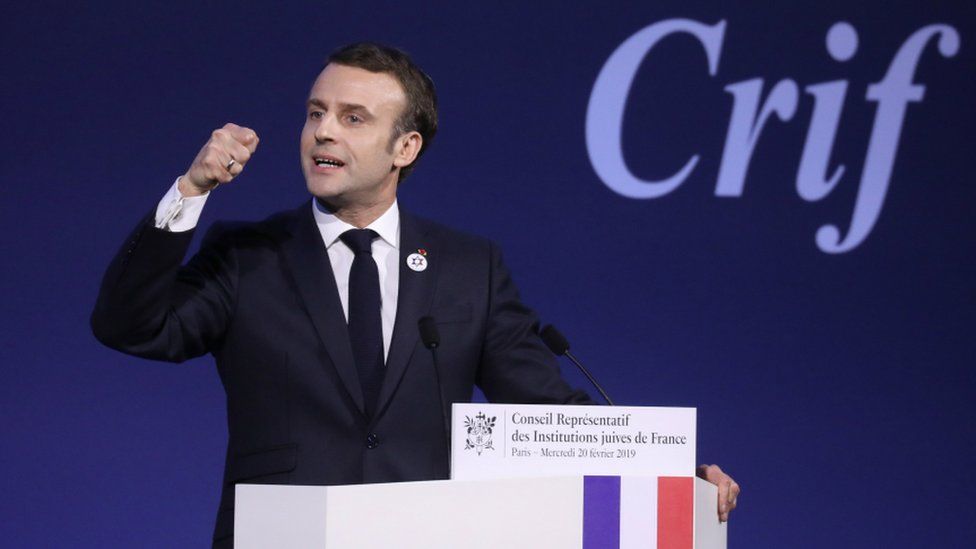 French President Emmanuel Macron has announced new measures to tackle anti-Semitism, following a spate of attacks.
He told Jewish leaders that France would recognise anti-Zionism - the denial of Israel's right to exist - as a form of anti-Semitism.
He also said parliament would vote on a new law to tackle hatred on the internet.
On Tuesday Mr Macron visited a Jewish cemetery near Strasbourg where graves were desecrated with Nazi symbols.
Addressing an annual meeting of Jewish organisations on Wednesday, Mr Macron said anti-Semitism in France and other Western countries had reached its worst levels since World War Two.
Among a series of new measures, he said the government would act to dissolve three extreme-right groups - Bastion Social, Blood and Honour Hexagone and Combat 18 - which he said fuelled hatred and promoted discrimination.
Mr Macron added: "Anti-Zionism is one of the modern forms of anti-Semitism. This is why I'm confirming that France will put forward the definition of anti-Semitism as drawn by the International Holocaust Remembrance Alliance."
In recent months, France has witnessed a series of high-profile anti-Semitic attacks.
In the past week vandals defaced portraits of the late Holocaust survivor and French minister Simone Veil, scrawled the German word for "Jews" on a Parisian bakery and cut down a tree planted in memory of a Jewish youth tortured to death by an anti-Semitic gang.
A prominent French philosopher, Alain Finkielkraut, was also verbally attacked for being Jewish as he walked past a recent "gilets jaunes" (yellow-vest) protest in Paris.
During his visit to the Jewish cemetery in eastern France where nearly 100 graves were desecrated, President Macron said: "Whoever did this is not worthy of the French republic and will be punished."
The number of anti-Semitic crimes reported in France, which is home to the largest Jewish population in Europe, increased by more than 70% - from 311 in 2017 to 541 last year.
The tally is not the worst France has seen in the past two decades, and follows a two-year dip in attacks, BBC Paris correspondent Lucy Williamson reports.
However, anti-Semitic violence is believed to be spreading from the old prejudices of the far-right, to radical Islamists and far-left groups, our correspondent adds.