Dublin Airport flights resume after drone spotted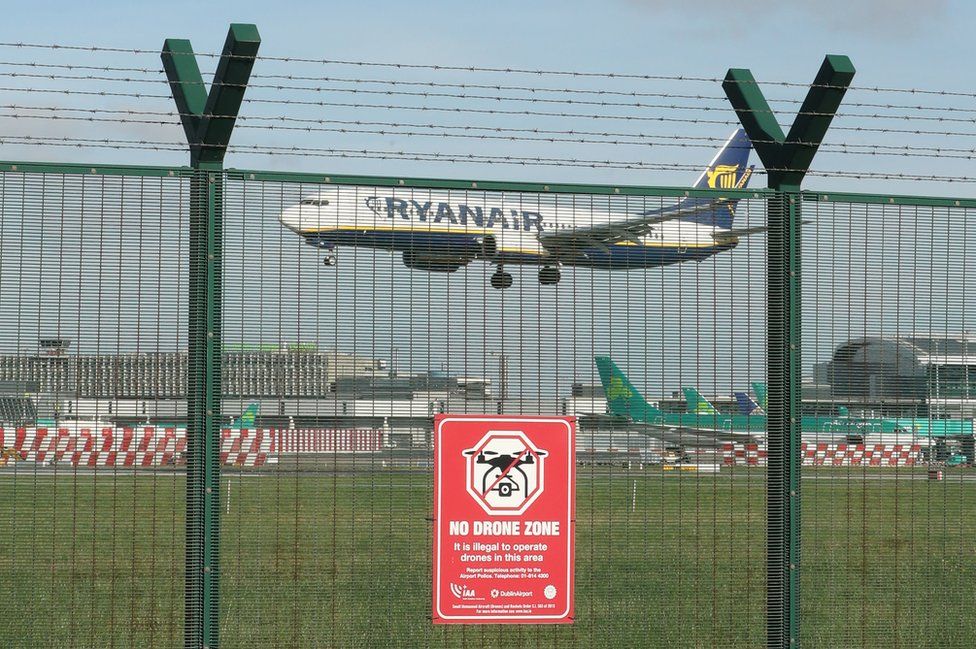 Flights at Dublin Airport have resumed after a brief suspension when a drone was seen over the airfield by a pilot.
At about 11:30 local time on Thursday, the airport said flights were suspended by air traffic control for 30 minutes.
The safety and security of passengers was the airport's "priority" and it apologised "for any inconvenience".
Three flights were diverted due to the drone sighting - two of which were sent to Belfast - and Dublin Airport warned of knock-on delays to others.
'Absolute definite sighting'
It said An Garda Síochána (Irish police force) and emergency services "were informed of the incident immediately".
Siobhan O'Donnell from Dublin Airport told Irish national broadcaster RTÉ that what the "pilot saw is an absolute definite sighting of a drone".
Skip twitter post by Dublin Airport
Flight operations have now resumed @DublinAirport following an earlier drone sighting. We apologise for any inconvenience. The safety and security of passengers is always our key priority.

— Dublin Airport (@DublinAirport) February 21, 2019
The BBC is not responsible for the content of external sites.
End of twitter post by Dublin Airport
In a statement, the airport said its staff and the Irish Aviation Authority "remain vigilant in relation to drone activity in the vicinity of the airport".
"It is illegal to fly drones within 5km (three miles) of an airport in the state and all drones that weigh more than 1kg (2.2lb) must be registered with the IAA," it added.
Last month, the Irish Department of Transport said a detailed risk assessment was to be carried out to assess if Irish airports were prepared for potential drone activity.
That followed drone sightings at Gatwick and Heathrow airports in England.
Irish Transport Minister Shane Ross had said he had been reassured that there were strong regulatory provisions in place to control and restrict the use of drones, including an exclusion zone of 5km (three miles) around airports.
Speaking in the Dáil (Irish parliament) on Thursday, Tánaiste (Deputy Prime Minister) Simon Coveney said the country would "learn lessons, particularly from our closest neighbour, and put mechanisms in place".
The pervious month, more than 140,000 passengers at Gatwick Airport were affected during 36 hours of chaos in the run-up to Christmas.
About 1,000 flights were cancelled at the airport over three days due to the drone sightings.
The no-fly zone for drones around airports is to be extended following the disruption at Gatwick, the UK government has said.
From 13 March it will be illegal to fly a drone within three miles of an airport, rather than the current 0.6-mile (1km) exclusion zone.
The UK government also said it wants police to have new stop-and-search powers to tackle drone misuse.