Anti-eviction protest at home of Irish defence minister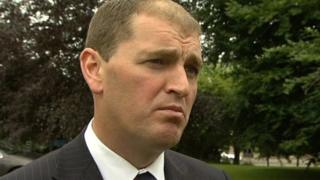 Gardaí (Irish police) were called to the home of an Irish government minister after a demonstration by anti-eviction protesters.
The protest happened at the home of the minister with responsibility for defence, Paul Kehoe, at about 13:45 local time on Sunday.
A spokesman for the minister confirmed the incident.
"The Minister and his family are grateful to An Garda Síochána for their assistance," the spokesman said.
Gardaí said the protesters left the scene peacefully.
Mr Kehoe and his family have since left their home, Irish broadcaster RTÉ said.
The politician is a Fine Gael TD (member of the Irish parliament) for Wexford.
Anti-eviction protests were held at the homes of health minister Simon Harris and finance minister Paschal Donohoe earlier this year.
Various anti-eviction groups have emerged in the Republic of Ireland in recent years.
Mr Harris condemned the protest outside his home, saying it was "intimidation" rather than legitimate protest.