Letterkenny: Children brought to hospital after Aura Leisure Centre evacuation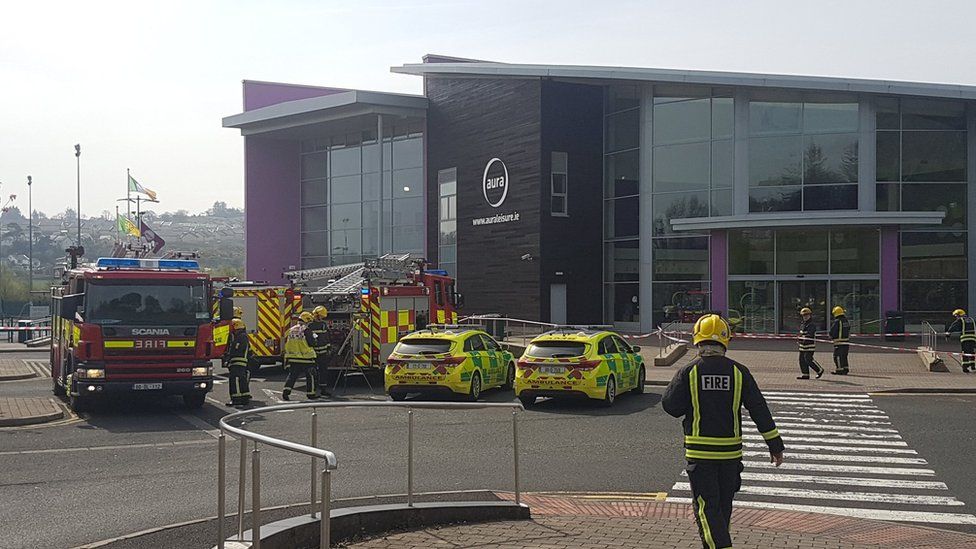 Five children have been taken to hospital for observation following an evacuation of the Aura Leisure Centre in Letterkenny, County Donegal.
A number of ambulances and fire brigades attended the scene.
Donegal's chief fire officer, Joseph McTaggart, said that Letterkenny fire brigade received a call to a chemical leak at the centre.
Irish broadcaster RTÉ reported the children had been taking part in a swimming lesson.
In a statement, Aura Leisure Management said that backwash, which leaked into the pool, caused some cloudiness and gave rise to foul odours.
"In line with our safety procedures, as a precautionary safety measure, we evacuated the pool and notified the emergency services to ensure that every person in the pool was checked for any reactionary medical issues."
Sinn Féin Cllr Gerry McMonagle, who was at the scene, told BBC News NI that there were lots of families at the centre for the bank holiday weekend.
"The children were removed and the whole place was evacuated," he said.
The Health Service Executive (HSE) said five children were taken to hospital.