Yekaterinburg church protests: Putin calls for poll to solve row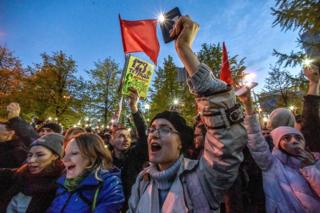 Russian President Vladimir Putin has intervened in an ongoing row over a new church in Yekaterinburg.
He said the Russian Orthodox Church "should unite people, not divide them", and called for the plans to build a church in a park to be put to a poll.
The city's deputy mayor quickly announced construction would be suspended while a survey was conducted.
It comes after four days of protests by thousands of city residents, during which 96 people were detained.
Protesters say that building St Catherine's Cathedral on a park square will destroy one of Yekaterinburg's few green spaces, which one local activist group says is "a favourite place for residents to relax".
But the Russian Orthodox Church says it needs new churches to replace the many buildings destroyed under Soviet anti-religion laws.
What did Putin say?
Addressing a press conference in Sochi, Mr Putin asked if the protesters were "godless", before adding: "People usually ask for a church, and here they are protesting against it."
He said everyone had a right to a view, and if the protesters really were locals - and not "activists from Moscow who came to make a fuss and engage in self-PR" - then their views need to be considered.
The president then said local officials should sit down with all sides and "find the optimal solution for those who live there", by conducting a poll.
"I think the Church should unite people, not divide them," he said. "So there need to be steps by both sides to resolve the situation for those who really live there. There's an easy way to do this - hold a poll. And the minority has to do what the majority wants. That's democracy. But you have to consider the interests of the minority too."
He also said that "whoever the investors are" should make sure trees are planted near the site, for "mothers and pushchairs".
'Perhaps something will grow out of this'
BBC Russian's Nataliya Zotova in Yekaterinburg
By nine thirty on Thursday night the number of people gathered here in the park had exceeded a thousand.
Some were telling me that they had come here daily since the protests began on Monday. Even those who were detained by police last night but later released have since returned.
There are two groups of people in the park square: one group in a tight circle around the current mayor of Yekaterinburg, Alexander Vysokinskiy, and the other surrounds the former mayor, Yevgeny Roizman. Mr Vysokinskiy gets shouted at: "Resign now!" while Mr Roizman is applauded.
Mr Vysokinskiy is promising to hold a public opinion poll, as suggested by President Putin. But the people I have spoken to do not hold much faith in these promises.
Gleb works at a theatre. This is his second night in the park square. He does not believe that local people will be consulted. "They've started chopping down some of the trees already," he says.
But Katya, a young mother who came to the park pushing a pram, believes that the protesters may have already triumphed - even if their victory is temporary.
"The people here are fighting not just for this park, but for the freedom to choose," she says. "Perhaps something will grow out of these gatherings, something will crystallise."
When will the poll be held?
Mayor Vysokinsky told Tass news agency that they "already started the survey today", and that it would take at least 20 days to complete.
But there could be more than one poll. Deputy Mayor Yekaterina Kuzemka told the Interfax-Ural news agency that city officials will conduct one survey, while regional authorities will carry out another one.
And then, she said, neither of these "will be perceived by the protesting public as legitimate" - which may lead to other, independent polls being held.
"Many public organisations have been in touch saying they are ready to initiate a mass independent survey," Ms Kuzemka added. "This is a very good initiative, we are not against it."
The church has been a source of controversy since plans to build it were first announced in 2010.
On its website the local activist group in Yekaterinburg says: "To build the cathedral they want to destroy the park, which is a favourite place for residents to relax."
Others have said that the city is in need of more, not fewer, parks.