Irish local elections: Sinn Féin disappointed as counting continues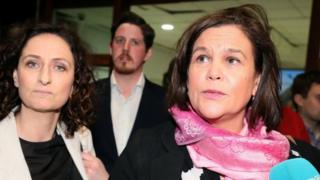 Sinn Féin has said it is disappointed in its party's performance in the Republic of Ireland's local elections as counting continues.
More than three quarters of council seats have been filled across the Republic.
Results so far have seen a surge in support for the Green Party.
On Monday morning, the Greens had secured 5.6% of the first preference vote, up from 1.6% five years ago.
The results so far still put the Greens behind the governing party Fine Gael, and main opposition parties Fianna Fáil and Sinn Féin.
They show Fianna Fáil receiving 26.9% first preference votes with Fine Gael on 25.2%, Sinn Féin on 9.5% and Labour on 5.7%.
More than 870 of the 949 seats have been filled.
European elections
Early election results in the European elections were announced on Sunday night.
Green Party candidate Ciarán Cuffe topped the poll in Dublin, receiving 63,849 first preference votes.
Former SDLP leader Mark Durkan, who stood as a Fine Gael candidate in the same constituency, received 16,473 first round votes.
Analysis
By Shane Harrison, BBC News NI Dublin correspondent
The Sinn Féin vote is down in both the local elections and the European elections.
The party five years ago came in with over 100 extra seats (in the local elections), riding the crest of a wave of popular discontent about austerity, about water charges, but clearly it's a very different Republic now.
For example, there is statistical full employment, people are more content, the economy is doing well.
It may be regarded that perhaps the Sinn Féin message didn't reflect the new reality.
The party accepts it is in a struggle to retain seats, particularly in Dublin in the European elections.
Fianna Fáil, the main opposition party, is set to remain the biggest party on a local government level.
Sinn Féin TD (member of the Irish parliament) Pearse Doherty said it was clear the party were "going to lose some very valuable councillors".
He added that "the wind is against us" and that the party would have to look at why certain areas did not come out to vote for Sinn Féin.
Tánaiste (Irish deputy prime minister) Simon Coveney said his Fine Gael party would have liked to have made bigger gains but that he did not think "anyone anticipated the scale of the growth in support for the Green Party".
In a referendum also held on Friday, people in the Republic of Ireland voted to liberalise divorce laws.
Meanwhile, Taoiseach (Irish Prime Minister) Leo Varadkar said he was open to the possibility of an early general election.
He told Irish state broadcaster RTÉ "there were a number of factors in play" on whether or not this would happen.
"Obviously the instability across the water in relation to Brexit, we have to bear that in mind, and also whether we can get the votes to get a budget through."