European elections 2019: What we know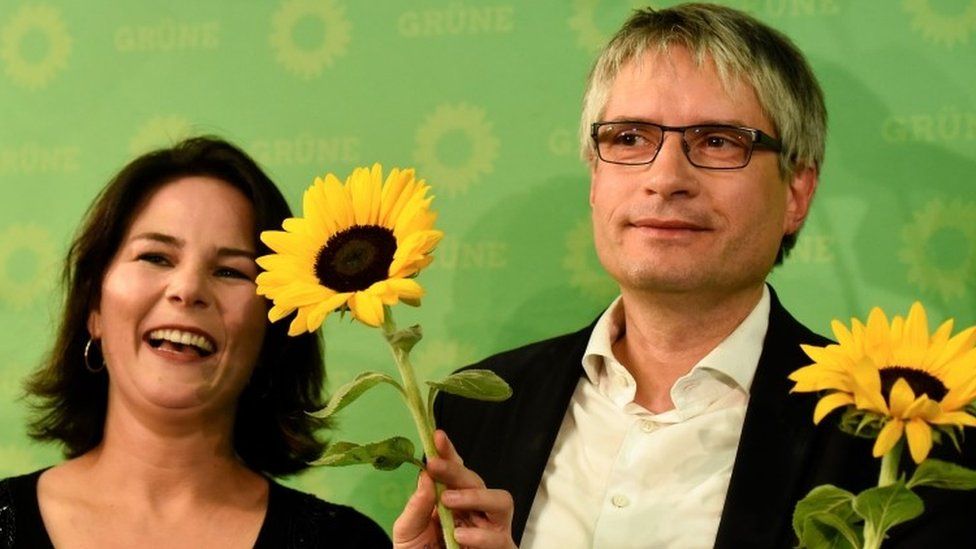 The major centre-right and centre-left groupings were always going to have a tough election, the question was - on what scale?
When the results came, it was clear they had lost their combined majority in the European Parliament as voters shied away from the mainstream. But they still held more than 43% of the vote.
The mainstream blocs lost votes to the Liberals, Greens and nationalists, creating a new, fragmented reality for the European Parliament.
Turnout was at its highest since 1994, with some observers suggesting this was due to more young people voting.
The centre-right European People's Party (EPP) and centre-left Socialists and Democrats (S&D) have long held more than half the seats in Parliament between them. That is set to change.
The sense of an end of an era was symbolised in Germany, where the centre-right Christian Democrats of Chancellor Angela Merkel polled just 29% of the vote - their worst-ever performance in European elections. The centre-left Social Democrats (SPD) came a poor third with 16%.
Official projections, based on exit polls, now suggest the EPP and S&D will lose 83 seats, bringing their share down to around 44%, from a comfortable control of more than half the previous parliament.
The centrist Alliance of Liberals and Democrats for Europe (ALDE), is heading for big gains, with its share rising from 67 seats to 107. That is largely because the newcomer-party of French President Emmanuel Macron has decided to join up and could play a kingmaker role.
Outgoing ALDE group leader Guy Verhofstadt hailed a "historical moment" and a "new balance of power".
Many member states, from the Nordic countries to Portugal, saw a rise in the Green vote.
And while they may have come second in Germany, the Green party is being hailed as the big winner there, doubling its vote share to 21%, incomplete results showed.
The Greens captured the zeitgeist while the other parties struggled to put together a coherent environmental policy, said BBC Berlin correspondent Jenny Hill.
Around one in three people under the age of 30 voted Green. In the run-up to the vote, 90 influential YouTubers urged followers to vote for parties that took climate issues seriously. They told voters to avoid the far-right AfD, which they said denied climate change was even happening.
In France, green group Europe Écologie Les Verts (EELV) is on course to come third with 13%. Both Mrs Le Pen and Mr Macron have emphasised their green credentials. Mr Macron wants to shift to green technology and energy while Mrs Le Pen said her brand of localism was good for the environment.
In Portugal, the green PAN party (People-Animals-Nature) is on course to win its first ever seat in the European Parliament, possibly even two.
The Greens have won an historic second place in Finland but in Sweden, home to climate activist Greta Thunberg, they have gone into reverse. They are projected to poll 11%, down almost 8%.
In Ireland, early exit polls give the Green party 15%.
3. Mixed picture for nationalist right
This was to be the election that sparked a right-wing force to seize the agenda in Europe. It has not quite happened.
The two dominant nationalist figures in France and Italy won the national vote.
Matteo Salvini, whose right-wing nationalist League party is predicted to win over 30% of the Italian vote, is hoping to found a new grouping, the European Alliance for People and Nations, with the support of a dozen other parties.
In France Marine Le Pen's National Rally party - formerly the National Front - is heading for first place with 23.5% of the vote, narrowly ahead of President Emmanuel Macron's centrist grouping, which got 22.4%.
Turnout was reportedly high in areas where her party has previously done well and also in areas where support for the anti-government "gilets jaunes" (yellow-vest) movement is strong. Mrs Le Pen has changed her position on EU membership, saying she now wants to stay in the bloc.
But after that the nationalist surge appears to fall away.
In Germany the far-right AfD is predicted to get under 11%, up from 7.1% five years ago, but down on its general election showing in 2017.
In the Netherlands the Freedom Party of Dutch anti-Islam politician Geert Wilders has lost all its seats in parliament. Much of his vote appears to have been taken over by another populist party, Forum for Democracy.
Results in Spain give new far-right Vox party getting only 6.2% of the vote, down from the 10.3% it achieved in Spain's national election only a month ago.
Far-right and Eurosceptic parties are currently split between three groupings in the European Parliament: the European Conservatives and Reformists (ECR); and the two far-right groupings, Europe of Freedom and Direct Democracy (EFDD) and Europe of Nations and Freedom (ENF).
In the UK a new anti-EU party, the Brexit Party, is heading for victory at the expense of the Conservative Party, while pro-EU Liberal Democrats are taking votes from the traditionally centre-left Labour party.