Mario Cerciello Rega: US student reportedly confesses to killing policeman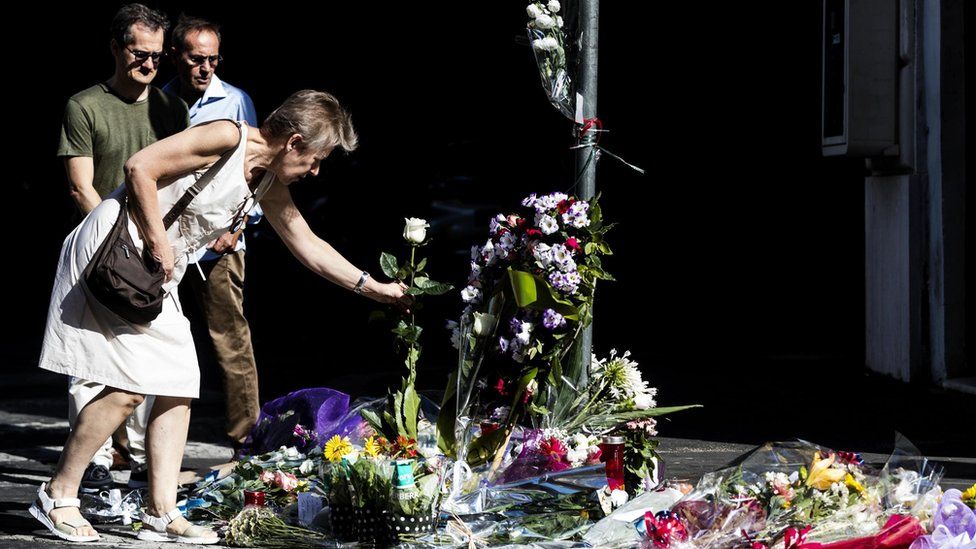 Two US tourists have been questioned by a magistrate in Rome, having being arrested on suspicion of involvement in the murder of an Italian policeman.
Local media reports suggest that they were involved in a drug deal that went wrong.
The American men, both 19 years old, were traced to a high-end hotel. One has reportedly confessed.
Mario Cerciello Rega, 35, was stabbed to death in central Rome in the early hours of Friday morning.
He had been called to the scene after reports of a robbery.
Police have named the detained men as Gabriel Christian Natale Hjorth, 18, and Finnegan Lee Elder, 19. They are accused of aggravated homicide and due to appear in court in the coming days.
Officers found a large knife hidden in the false ceiling of their hotel room.
In the immediate aftermath, Italian media had said police were looking for North Africans, which sparked anti-immigrant rhetoric online.
Far-right interior minister, Matteo Salvini, initially tweeted that the perpetrators should get "hard labour for life".
He has since said that though he would not go as far as the US death penalty, whoever committed the crime should get a life sentence.
The young men were allegedly in the Trastevere area, near to Vatican City, trying to buy drugs.
They are said to have stolen a rucksack from an alleged drug dealer who had sold them fake product, according to Italian news agency Ansa.
They reportedly offered to bring it back to him, if he paid them $100 (£80; €90) and gave them a gram of cocaine.
As they waited, they were approached by Rega and a colleague as part of a plain-clothed operation because the police had been tipped off about the bag exchange, Ansa reported.
A brawl ensued, during which Rega was stabbed several times. He was taken to hospital, where he died of his injuries.
You may also be interested in:
Vice-Brigadier Rega had been married only 43 days and had returned from his honeymoon just this week.
"Mario was a lovely lad," Sandro Ottaviani, commander of Rome's Piazza Farnese Carabinieri station, was quoted as saying by Ansa.
"He never held back at work and he was a figurehead for the whole district. He always helped everyone. He did voluntary work, accompanying sick people to Lourdes and Loreto. Every Tuesday he went to Termini train station to feed the needy."
His funeral will be held on Monday, in the same church in which he was married.