Russia protests: Opposition couple face losing custody of son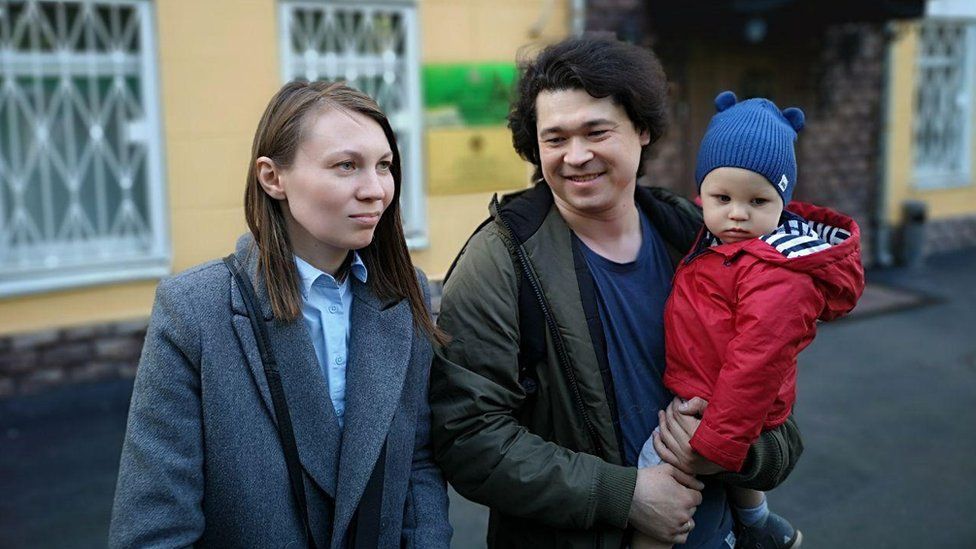 Prosecutors in Russia are seeking to strip a couple of parental rights after they took their one-year-old son to an unsanctioned opposition protest.
They said in a statement that the couple had put the baby's life in danger by giving him to a third person.
The couple told BBC Russian they simply gave their child to a friend to hold.
Thousands were detained at the protest and at another a week later.
What do the prosecutors say?
"During the rally the parents handed their young child, who was in a helpless state due to his age, to a third person thus endangering the boy's health and life," the statement said.
"And so by exploiting the child, the parents abused their parental rights to the detriment of their son's interests."
The prosecutors also said the child's father had temporary residence in Moscow and therefore did not have a vote in the elections.
The statement added that other parents who had brought young children, as well as people who had encouraged minors to go to the demonstrations - on 27 July and 3 August - were being investigated.
The couple, named as Dmitry and Olga Prokazov, said they had simply been out for a walk when they came upon the protesters.
"We knew that a rally for honest elections was being planned, and we were in solidarity with this... and so we weren't afraid," Mr Prokazov said.
He said they had seen their friend Sergey Fomin among a group of protesters and suggested that he leave with them. He agreed and at some point Dmitry gave Sergey the baby to hold.
He described Sergey as his best friend, and said he was his wife's cousin and godfather to his eldest son.
"It didn't even occur to me that I was doing something remotely wrong," he added.
Investigators say Sergey Fomin is being sought by police for taking part in the protests, adding that he took someone else's child as a way to get through police encirclement of the demonstrators. His whereabouts is unknown.
Some officials have criticised the prosecutors' move.
"It's unacceptable in any political situation to blackmail using children," Moscow children's rights ombudsman Yevgeny Bunimovich told Moscow Echo radio.
Russian Human Rights Council head Mikhail Fedotov said the third person argument risked causing problems for nannies, grandparents and others.
"By creating a precedent, we risk creating a headache for all parents," he told Interfax news agency.
What are the protests about?
More than 1,000 people were detained at the 27 July rally, in one of the biggest crackdowns in years.
A week later, more than 600 people were arrested at a similar protest, with reports of police violence.
Alexei Navalny, Lyubov Sobol and other opposition leaders have been arrested and jailed in connection with the rallies.
Election authorities have barred opposition candidates from taking part in Moscow city authority elections planned for 8 September.
Officials said many of the signatures required for their candidacy applications were invalid. But protesters say they were excluded for political reasons.
Ms Sobol, who is on hunger strike, and others have called on Muscovites to join an officially sanctioned rally on 10 August.
Mr Navalny fell ill in jail with a swollen face and rashes over his body, and was briefly hospitalised.