Simon Gautier: French hiker's body found in Italian ravine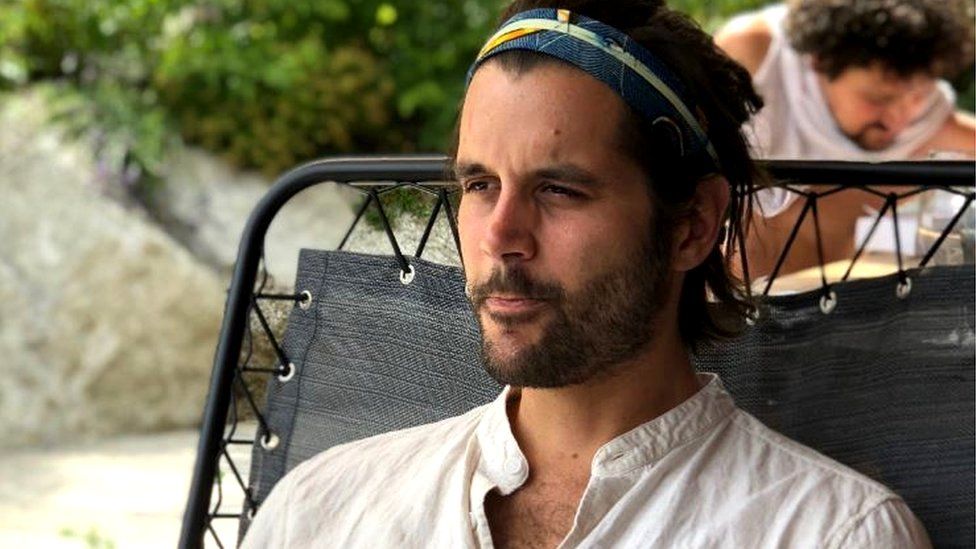 The body of a French hiker who disappeared in Italy after making an emergency call 10 days ago has been found in a ravine near Naples.
Simon Gautier, 27, made a plea for help on 9 August, saying he had fallen down a cliff and broken both legs while walking in Salerno in south-west Italy.
"Help me, I see the sea but I don't know where I am," he told authorities.
Mr Gautier was found on Sunday after rescuers used binoculars to scour the area and located his backpack.
His family have criticised local authorities, saying they took too long to organise search and rescue efforts.
It is not clear why Mr Gautier's mobile phone could not be located using a GPS tracking system.
Traces of blood near footpath
Mr Gautier was walking alone near the coast in Belvedere di Ciolandrea, in the municipality of San Giovanni a Piro, heading towards the southern Italian city of Naples when he disappeared.
In a call to emergency services on the morning of Friday 9 August, Mr Gautier said he had broken his legs after falling into a ravine "in the middle of nowhere", adding that he was "dying of pain".
Efforts to locate Mr Gautier were made difficult due to the area's dangerous terrain - firefighters, sniffer dogs, drones and helicopters were used to search the cliff area alongside the sea.
Days later, a member of an Alpine rescue team helping with the search spotted Mr Gautier's backpack near a ravine.
A team dispatched to the location then found small traces of blood on rocks near a footpath. His body, which was later discovered at the bottom of the ravine, was being recovered by teams on Monday.
Our lucky escape from a cliff edge in Italy
By Katie Razzall, UK Editor, BBC Newsnight
Two days before Simon Gautier made his emergency call this month, my family and I, along with friends, also lost our way on a treacherous stretch of mountainside above the sea near San Giovanni.
As regular visitors to southern Italy, we've spent many hours hiking in the area. But this year we had been told of a new path - part of a larger network of paths we understood to have been opened up by the Italian authorities - that connected the hilltop village of San Giovanni to the seaside.
What should have been an easy saunter downhill to a restaurant in time for dinner, however, turned into a dangerous wait in darkness after we became disoriented by poor signposting.
The path, often steep and twisting, was difficult to follow, with numerous loose stones along the way. It was a bad decision, particularly with two children in the group and only a few bottles of water.
As daylight began to fade, we lost the path and had to use our phone torches to find it while battling through dense forest on uneven terrain. It was then that we decided to stop and request help.
We shared a pin of our location with friends, who contacted the local Protezione Civile (the civilian protection agency), and a team set out to find us.
From where we sat in the dark and waited on the hillside, we could see the lights of nearby Scario village - we could hear people talking and a band playing. It was only after we had been rescued that we realised we had actually been perched above a cliff edge.
On Sunday, a vigil for Mr Gautier was held outside a church in the nearby village of Scario.
Mr Gautier moved to the Italian capital Rome two years ago and had been writing a thesis on art history.
His family have called for an investigation to determine the cause of his death and whether it could have been prevented.