MH17 crash: 'Key witness' released in Ukraine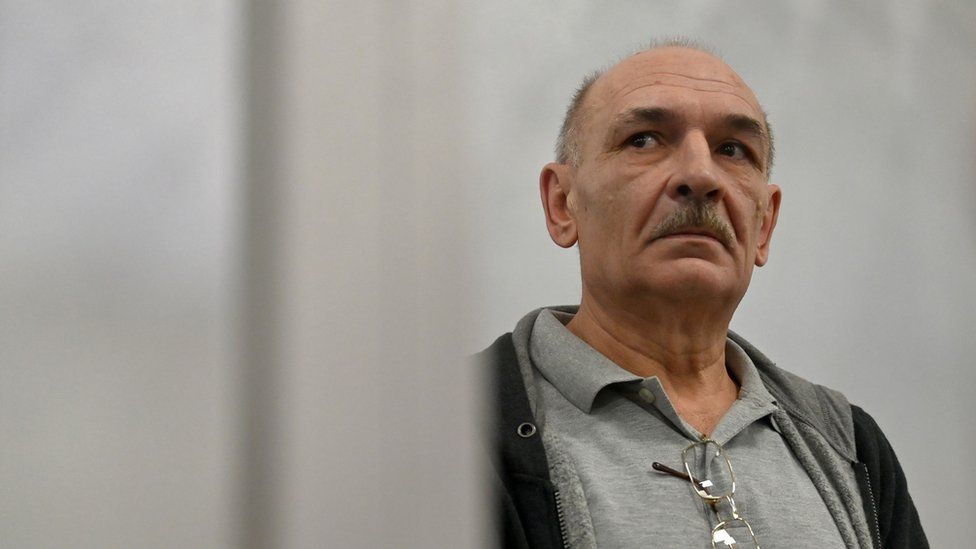 A Ukrainian court has released a potentially key witness to the downing of Malaysian Airlines Flight MH17 that killed all 298 people on board in 2014.
Volodymyr Tsemakh, 58, was seized this year from a separatist-held part of Ukraine. He is reported to have played a key role in the rebels' air defences.
Dutch-led investigators voiced concern they may be unable to interview him.
He is reported to be on a list of prisoners that Moscow wants exchanged with Ukrainians it holds in Russia.
On 17 July 2014, the aircraft was travelling from Amsterdam to Kuala Lumpur when it was hit by a missile over eastern Ukraine. Most of those killed were Dutch citizens.
The downing of the aircraft came amid intense fighting between Ukrainian troops and Russian-backed rebels in eastern Ukraine. More than 13,000 people have died in the conflict over the last five years.
A team of international criminal investigators said in 2016 that the missile had been brought from Russia and fired from a field controlled by Russian-backed separatists.
What are the circumstances of Mr Tsemakh's release?
The suspect was charged with terrorism offences following his reported seizure from rebel-held territory at the end of June.
According to details reported by investigative website Bellingcat, he was smuggled out unconscious - possibly in a drunken stupor - disguised as an elderly man in a wheelchair, in what has been described as one of Ukrainian special forces' most successful operations.
He is reported to have been in detention in Kiev since then.
He was released from custody but the court in Kiev said his movements would continue to be restricted pending his trial in October.
However, he has not been electronically tagged, and the BBC's Jonah Fisher in Kiev says nobody is expecting him to show up in court.
Ukraine and Russia are currently negotiating a prisoner swap, which include 24 Ukrainian sailors captured off the Russia-annexed Crimea in November.
Mr Tsemakh is said to be on the exchange list, but his fate has become a stumbling block.
Meanwhile Russian President Vladimir Putin, speaking at around the time of Mr Tsemakh's release, said that the talks were being finalised and the swap could involve a large number of people. He added that the date of the exchange would soon be announced.
Why is he sought as a witness?
Russia has denied any involvement in the incident.
Mr Tsemakh is not among the suspects but is a "person of interest" in the investigation.
One of the suspects, Igor Girkin, has said he was head of the separatists' air defences in Snizhne, close to where the JIT says the missile was fired from.
International prosecutors have said they would like Mr Tsemakh to remain in Ukraine so they can ask him further questions.
Last week, Dutch prosecutors urged the authorities in Ukraine not to allow him to travel to Russia, out of concerns it could mean he would be prevented from taking part in their investigation.
Forty European politicians have sought assurances to this effect from Ukrainian President Volodymyr Zelensky.
The Ukrainian Prosecutor General's Office has also objected to Mr Tsemakh's release, saying that he would not be safe.
"We believed that detention was the only possible preventive measure for Mr Tsemakh. His life might be threatened," said spokesman Oleh Peresada.
"He is an important element of the truth-seeking in this case. We understand that our northern neighbour [Russia] is known for rough treatment of people who are a danger to them."
The flight was en route from Amsterdam to Kuala Lumpur, travelling over eastern Ukraine on 17 July 2014, when it disappeared from radar about 50km (30 miles) from the Russian border.
Footage later emerged of the crash site in the Donetsk area.
Investigators said the aircraft was downed by a missile which exploded just above and to the left of the cockpit, causing it to break up in mid-air.
A total of 283 passengers, including 80 children, and 15 crew members were on board.