Dutch tractor protest sparks 'worst rush hour'
Tractor-driving farmers taking to the streets to demand greater recognition caused the worst ever Dutch morning rush hour on Tuesday, according to motoring organisation ANWB.
There were 1,136km (700 miles) of jams at the morning peak, it said.
Farmers reacted angrily to claims that they were largely responsible for a nitrogen oxide emissions problem.
A report has called for inefficient cattle farms to be shut down and some speed limits lowered to cut pollution.
Farming groups believe they are being victimised while the aviation industry is escaping scrutiny.
How big were the protests?
The tractors arrived early on Tuesday, some of them knocking down fences to get there. Three people were arrested, according to public broadcaster NOS.
Thousands of farmers, many on their tractors, took part in the protest in a field in the centre of The Hague. Police said 2,200 farmers joined the protest.
Hague mayor Pauline Krikke warned of an "unsafe situation" but no further trouble was reported and drone pictures showed dozens more tractors parked on Scheveningen beach while their owners joined the demonstration.
Anna Holligan, BBC News, The Hague
Amber lights flashing, horns blaring, the "green army" rolled in and their message was unambiguous.
"No farmers, no food", "You love bread, meat and fries, without farmers you wouldn't have them," the slogans read.
The BBC is not responsible for the content of external sites.
Skip twitter post by anna holligan 🎙
Allow Twitter content?
This article contains content provided by Twitter. We ask for your permission before anything is loaded, as they may be using cookies and other technologies. You may want to read Twitter's cookie policy, external and privacy policy, external before accepting. To view this content choose 'accept and continue'.
The BBC is not responsible for the content of external sites.
End of twitter post by anna holligan 🎙
Every farmer felt the same frustration, that their industry was being targeted by a government scrambling to hit its climate goals.
"Suddenly everyone is worried. We're getting blamed and badly represented in the media, everyone is blaming us for climate change but planes are worse than farmers and no-one is talking about them," Vincent, a 17-year-old dairy farmer told me.
Huddled inside their cab, young couple Geert-Jan and Danielle feared for the future.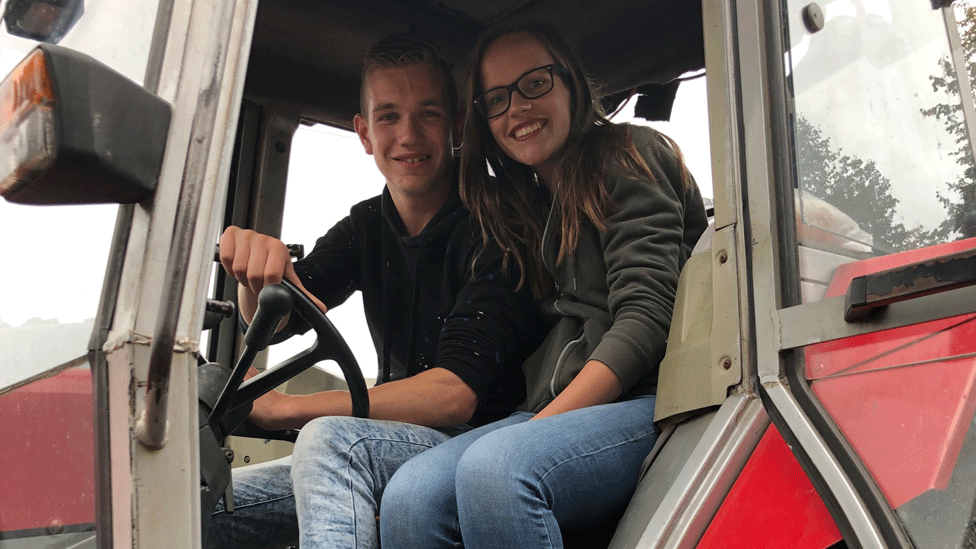 BBC
If they halve the number of dairy farms we won't exist anymore
Beyond this muddy protest site, police were poised to block any attempt to drive closer to the seat of power.
If the government wants to avoid the farmers' wrath, it must ensure that lucrative businesses such as motor-racing, airports and multinationals are subject to equal scrutiny.
Beyond The Hague, tractors snarled up motorways and main roads across the country.
As the tractors headed home the main infrastructure agency warned of major disruption for the evening rush hour too.
The BBC is not responsible for the content of external sites.
Skip twitter post 2 by ANWBverkeer
Allow Twitter content?
This article contains content provided by Twitter. We ask for your permission before anything is loaded, as they may be using cookies and other technologies. You may want to read Twitter's cookie policy, external and privacy policy, external before accepting. To view this content choose 'accept and continue'.
The BBC is not responsible for the content of external sites.
End of twitter post 2 by ANWBverkeer
It was not just the farmers who took to the streets but their children too, as they headed to a Christian primary school on toy tractors in the eastern farming town of Ommen.
How serious is the crisis?
The Dutch top court, the Council of State, ruled in May that Dutch rules for granting building and farming permits breached EU law on protecting nature from nitrogen oxide emissions such as ammonia and nitrous oxide, prompting a halt in thousands of projects including new roads, housing blocks and airports.
Nitrogen oxides play a significant role in air pollution and biodiversity and nitrous oxide has a stronger greenhouse gas effect than CO2.
Last week an advisory committee said drastic measures were needed, both in farming and on Dutch roads.
Liberal MP Tjeerd de Groot called for livestock production to be halved, meaning six million fewer pigs and 50 million fewer chickens, prompting a furious reaction from farmers.
He blamed intensive livestock farming for much of the Netherlands' nitrogen emissions problem and argued that the key to the future was modern, sustainable agriculture.
Agriculture minister Carola Schouten promised the protesters on Tuesday that as long as she was minister there would be no halving of livestock. Dutch society had to appreciate its farmers more, she added.
Farming groups believe measurement of carbon dioxide and nitrogen is inaccurate and the debate over emissions has been hijacked by city-based climate change protesters.
"We feel as if we're being put in the dunces' corner by city types who come and tell us how things should be in the countryside," one of the protest organisers, Mark van den Oever, told the Trouw website, adding that farmers shouldn't be blamed for the whole nitrogen issue.
Last month, broadcaster RTL Nieuws reported that the worst pollution problems facing the Dutch were around Amsterdam, nearby Schiphol airport and Rotterdam.
The government has been criticised by climate campaigners for pushing ahead with the return to Formula One motor racing at Zandvoort next year. The sports minister said he was hopeful that measures to tackle nitrogen emissions would not affect the race.
The Dutch government has set a target of reducing greenhouse gas emissions next year by 25% of 1990 levels. Last month a health watchdog said emissions had been cut by 15% cut in that time, largely by reducing methane, nitrous oxide and other gases. Carbon dioxide levels have remained the same.