Finland college attack: Sword attacker kills woman in Kuopio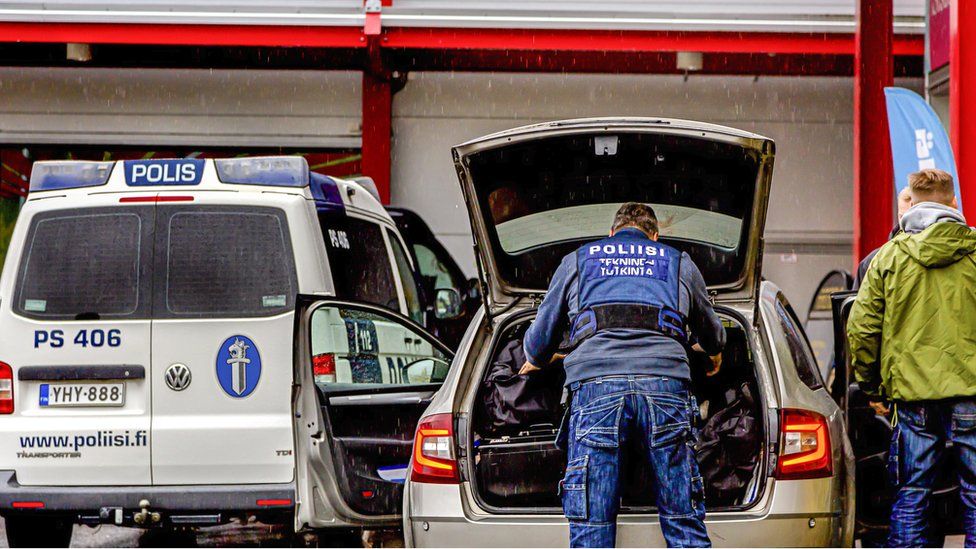 A woman has been killed and 10 other people wounded in an attack at a vocational school in the Finnish city of Kuopio, police say.
A witness told Finnish media that a student entered Savo college carrying a sword and stabbed several people.
Police said the suspect was carrying a "sabre-like weapon" and a gun.
An unnamed witness was quoted as saying that he stabbed the woman in the neck and the stomach. The suspect was later arrested by armed police.
Those wounded were aged between 15 and 50 and most of them were women, the head of the hospital said. The age of the woman who died was not yet known.
Police said officers used a firearm when detaining the man after arriving at the school, which is in a shopping centre south of the centre of Kuopio. A small fire had been started by the attacker but it was quickly put out.
No motive for the attack has been given but police have since searched the home of the man, who is described as a native Finn born in 1994 who was a student at the college.
Another witness told local radio that officers had confronted the suspect, and two shots had been fired.
"One dead body has been found at the college premises of Kuopio Herman," police said. The wounded were taken to Kuopio university hospital.
The suspect was among those wounded in the attack. A police officer was also reportedly injured. Two people are said to be in a serious condition but neither has life-threatening injuries.
Students 'threw chairs' at attacker
The college has about 600 students and 40 staff, but officials said it was unclear how many were at the scene at the time of the attack. Most of the students are in their late teens but Savo college also has older students.
One woman told Finnish media how she had helped a female teacher who suffered a deep wound to her hand when she was attacked by the student.
"While I was helping the teacher, I started hearing other shouts for help... students were running," she told Finnish television channel MTV.
The suspect had walked in on a class and pulled a sword out of his bag and attacked the teacher, the Iltahlehti news website reported. As she tried to flee, students threw chairs at the attacker in an attempt to escape and some were wounded.
Prime Minister Antti Rinne said the violence at the college was "shocking and completely unacceptable", while Education Minister Li Andersson said every young person had a right to study in safety, without fear of violence.
Finland is considered a relatively safe country, with a total of 73 homicides in 2017, but it does have a large gun-owning population. In 2008, a 22-year-old gunman shot dead 10 people at a vocational school in the town of Kauhajoki before fatally shooting himself.