Storm Lorenzo: Power outages and flooding in Donegal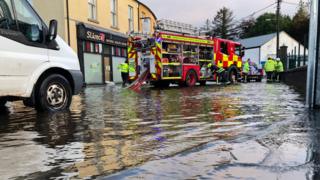 Authorities in County Donegal are dealing with flooding in the aftermath of Storm Lorenzo, which brought heavy rain and high winds overnight.
Almost 40 homes in the county were flooded in the early hours of Friday morning.
In most of the affected areas, however, the waters have begun to subside.
At the height of the storm, almost 20,000 homes across the Republic of Ireland were without power.
In Donegal town, emergency services were on standby at several housing estates to monitor the levels on the River Eske, but intensive efforts to pump water from affected areas appears to have worked.
Pitch submerged
In Kilcar, west Donegal, pitches at the the local Gaelic athletics club Chill Chartha were submerged in a meter of water on Friday morning.
A club spokesperson, James Byrne, told the BBC that, despite the weather warning, they did not envisage the extent of the flooding on the grounds and club house.
However, he added that a clean up operation was ongoing and that the long-term damage was not expected to be substantial.
"Thankfully the dressing rooms are all tiled, so it's easier to clean up and the pitch that's flooded was only opened last year, but because it's new, it's draining well.
"We've a big championship match on Sunday, so we're hoping the place is in better shape by tomorrow!"
Businessman Laurence McHugh, who owns a signs and graphics shop in the town, said he received a call from a neighbour at about 07:00 local time to tell him his premises was flooded.
"The water was about six to eight inches high when we got there," he said.
"There are two businesses here - ourselves and a hamper shop - and we've both had to close. It's too early to say for how long, but we've had to get machinery out and floors up and the clean up job is huge. We'll just have to try to rebuild now and start again."
Mr McHugh added that friends and neighbours in the town had provided great support.
Met Éireann say winds of more than 100km/h (60mph) were recorded on the west coast of Ireland.
Iarnród Éireann said all train services were operating as normal on Friday.
There was no impact on flights travelling to and from Dublin International Airport.
A status orange warning was in place in the Republic of Ireland from 18:00 on Thursday, when storm surges and winds of up to 130 km/h (81mph) were expected in coastal areas.
The worst winds were forecasted to pass by 22:00 BST on Thursday, with the west coast experiencing the brunt of the gale force winds.
At the weekend, Lorenzo had been deemed a hurricane, and it broke the record for the strongest this far north and east in the Atlantic.
It was downgraded to a category 2 with winds of up to 105mph (165km/h).