Peter Handke: Critics hit out at Nobel Prize award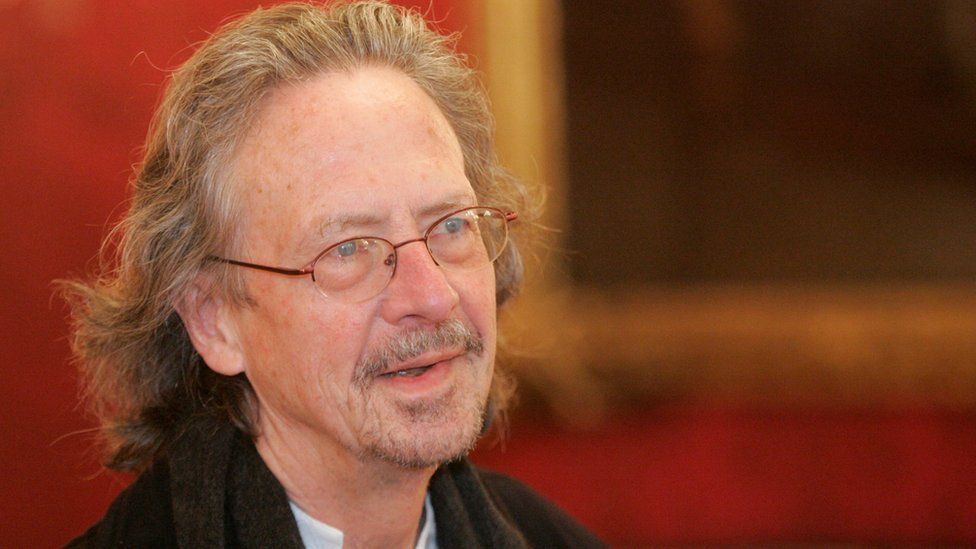 Critics have hit out at the decision to give Peter Handke a Nobel Prize for Literature.
The Austrian playwright, novelist and poet was awarded the 2019 prize on Thursday.
He is a highly controversial figure for his support for the Serbs during the 1990s Yugoslav war.
Albania's Foreign Minister Gent Cakaj wrote on Twitter that the award was shameful and had been awarded to a "genocide denier".
The Austrian author said he was "astonished" at winning the prize adding that the decision was "very courageous by the Swedish Academy". His award was widely praised in Austria while the mayor of Belgrade, Zoran Radojicic, spoke of "a great writer, humanist and a man who loves Serbia".
The Swedish Academy which oversees the prestigious award said in a statement that Handke had been recognised for "an influential work that with linguistic ingenuity has explored the periphery and the specificity of human experience".
The Nobel committee also awarded the 2018 prize on Thursday to Polish author Olga Tokarczuk.
Her debut novel was published in 1993, and her breakthrough came three years later with Primeval and Other Times, which is set in a mythical village and traced Poland's history from World War One to the 1980s.
Handke, 76, once called for the Nobel Prize for Literature to be abolished, condemning the "false canonisation" of its winner.
He burst on to the literary scene in the 1960s and one his best-known works, A Sorrow Beyond Dreams, dealt with his mother's suicide in 1971. He has also collaborated with film director Wim Wenders.
He will receive nine million Swedish kronor (£740,000), as well as a medal and a diploma.
Why Handke's win is controversial
However, many have hit out against the academy's decision to hand the prize to a man who was considered close to former Serb leader Slobodan Milosevic.
He once denied the Serbian massacre at Srebrenica and compared Serbia's fate to that of Jews during the Holocaust - although he later apologised for what he called a "slip of the tongue".
"Never thought [I] would feel to vomit because of a Nobel Prize," Albanian Prime Minister Edi Rama wrote on Twitter.
Kosovo President Hashim Thaci tweeted: "The decision of Nobel Prize brought immense pain to countless victims."
Emir Suljagic, a survivor of the massacre of more than 8,000 Muslim men from Srebrenica, said: "A Milosevic fan and notorious genocide-denier gets Nobel prize in literature ... What a time to be alive."
Bosnian Presidency member Safik Dzaferovic said awarding Handke the prize was "scandalous and shameful", while Slovenian philosopher Slavoj Zizek called the writer "an apologist of war crimes".
Austrian leaders were, however, delighted with the news, preferring to focus on his literature.
President Alexander Van der Bellen said his "quiet and captivating voice has been drawing for decades worlds, places and characters that could not be more fascinating". "We owe him a great debt of thanks, I hope he knows that," he added.
PEN America said it was "dumbfounded by the selection of a writer who has used his public voice to undercut historical truth", in a statement from its president, Jennifer Egan.
"We are dumbfounded by the selection of a writer who has used his public voice to undercut historical truth & offer public succor to perpetrators of genocide," says PEN America President @Egangoonsquad on Peter Handke receiving Nobel Prize in Literature: https://t.co/sKfeqYszeL.

— PEN America (@PENamerica) October 10, 2019
Sir Salman Rushdie, who once condemned Handke as "Moron of the Year" for his backing of Slobodan Milosevic, was also unimpressed with the choice.
British author Hari Kunzru also criticised the decision. He told the Guardian: "More than ever we need public intellectuals who are able to make a robust defence of human rights in the face of the indifference and cynicism of our political leaders. Handke is not such a person."