Sixteen people found in lorry on ferry to Rosslare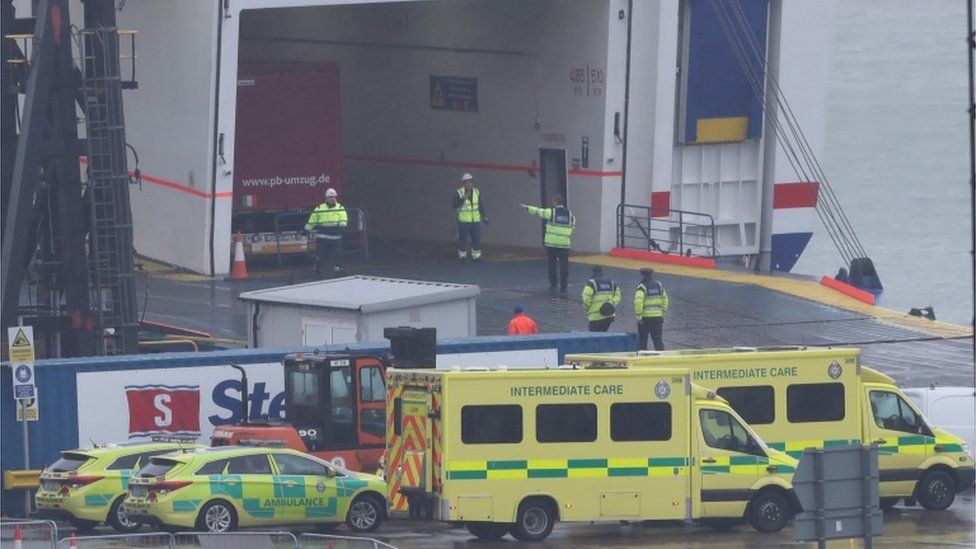 Sixteen people have been discovered in a lorry on a ferry travelling from France to the Irish port of Rosslare.
They were found in a "sealed trailer" on a Stena Line sailing from Cherbourg to Rosslare in County Wexford.
Gardai (Irish police) said all 16 people appeared to be "in good health" and were being medically assessed.
They said they were investigating potential breaches of immigration legislation and were assessing the immigration status of the 16.
"At approximately 09:45am today 21 November 2019 the captain of the ferry alerted gardai that a number of people had been discovered in the trailer of an articulated tractor unit on the vehicle deck," police said.
"An Garda Siochana are now investigating all the circumstances of this incident. The articulated truck involved in this incident has been detained.
"The driver and the owners of the articulated vehicle are assisting An Garda Siochana with our enquiries."
The vessel left Cherbourg on Wednesday night at about 21:00 local time.
The 16 people were discovered on Thursday morning during a "routine inspection" of the vehicle deck, according to Stena Line.
The company's Ian Hampton said they were thankful that those discovered in the trailer "are now safely in the care of the authorities who were present at Rosslare Europort to meet them".
He added: "Stena Line will remain in contact with all relevant authorities to assist in any way we can with the ongoing investigation.
"I would like to take this opportunity to thank our onboard employees, who handled a very difficult situation with the utmost professionalism."
It is understood that the group was found after banging was heard on the side of the trailer.
They were quickly released from the trailer and brought to a passenger lounge.
The 16 are believed to be all men, aged approximately between 20 and 40 years old.
Rosslare Europort is owned by Iarnród Éireann (Irish Rail).
A spokeswoman for Iarnród Éireann told BBC News NI that Stena Line had informed port authorities about the discovery of several people in a lorry on Thursday morning.
She said Iarnród Éireann will "co-operate fully with the Garda and immigration authorities" and facilitate them at the port in any way they can".