Malta Caruana murder: Resignations spark government crisis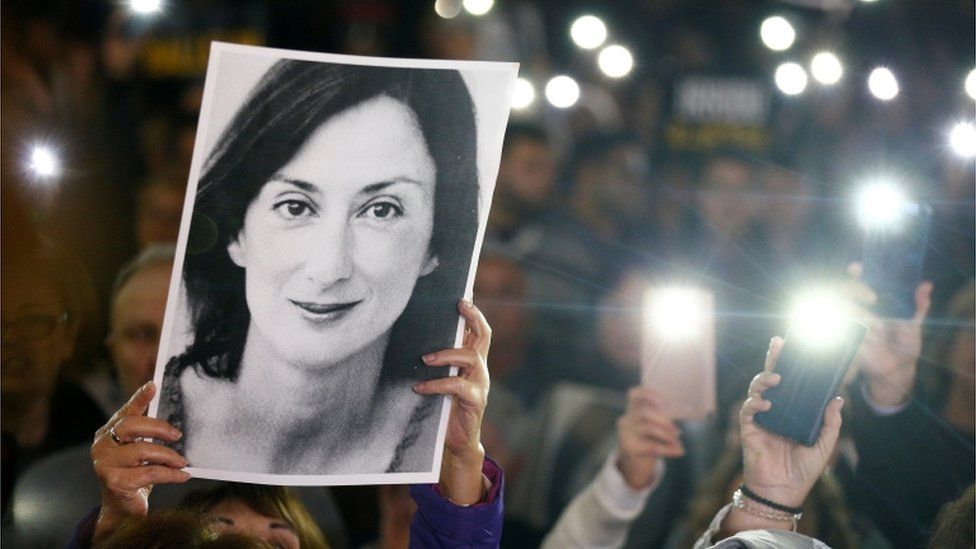 Two years after the murder of Maltese journalist Daphne Caruana Galizia, a volley of resignations has rocked Prime Minister Joseph Muscat's government.
His chief aide, Keith Schembri, quit amid reports he was being questioned by police, and Tourism Minister Konrad Mizzi also resigned.
The Economy Minister, Chris Cardona, took the decision to suspend himself.
Opposition MPs heckled the prime minister with shouts of "mafia" when he walked into parliament.
The three men who stepped aside from Mr Muscat's government on Tuesday all deny wrongdoing.
Under mounting pressure, the prime minister said he would not speculate on whether Mr Schembri was being questioned or what any questioning could be about.
Malta's business community has said the unfolding inquiry reveals the extent of damage caused to the country.
In a statement, the chamber of commerce said it had become clear "the extent to which criminal activity had infiltrated the circles of power, and operated unperturbed for years".
Why have events come to a head?
Investigations into Caruana Galizia's murder in a car bombing intensified when a suspected middleman was pardoned.
The prime minister told parliament the suspect, Melvin Theuma, was being given immunity in return for information about the killing. Maltese reports suggested he had audio recordings linked to the case.
Last week, prominent businessman Yorgen Fenech was arrested in a dramatic raid on his yacht. He too is reported to have requested a pardon in exchange for information. He received hospital treatment after his arrest and has been given police bail.
Caruana Galizia, an investigative journalist, was killed on 16 October 2017 after blogging about corruption.
She alleged that a company called 17 Black, owned by Mr Fenech, had links to high-level politicians and in her last blog, she wrote about the prime minister's aide, Mr Schembri.
Where does the Panama Papers scandal come in?
Mr Schembri was named in the massive 2016 data leak known as the Panama Papers and Caruana Galizia alleged that he and Konrad Mizzi had benefited from secretive "shell companies".
Commentators point out that both members of the government caught up in the Panama Papers leaks have now left office.
Mr Mizzi did initially leave the government after the leak but he was later given the tourism brief.
Although Mr Cardona has not been linked to the leak, he was recently approached by police for "further clarifications" and said he was stepping aside as economy minister in the national interest.
How much pressure does Muscat face?
At least two of Mr Muscat's party colleagues were restrained by security guards as they attempted to confront the hecklers.
Protesters outside parliament were kept back behind railings.
Speaking to the BBC, the editor-in-chief of the Times of Malta, Herman Grech, said the anger aimed at Mr Muscat was extraordinary, especially given his widespread support.
"He has won successive elections with landslides, he is extremely charming, he is very popular with his supporters," said Grech.
"But what I am seeing tonight, at least in Valletta, where people were even throwing eggs at his car, I mean, this is quite unprecedented for Malta, especially for a country that doesn't really do protests."
Adrian Delia, leader of the conservative Nationalist party, has called for a debate on the future of Mr Muscat as prime minister.
I call upon the President of the Republic to ascertain whether the Prime Minister still enjoys the support of the majority of the House of Representatives.

— Adrian Delia (@adriandeliapn) November 26, 2019
According to Maltese reports, the prime minister said earlier he had been given unanimous support in a meeting of his parliamentary group.
How far ahead is the murder inquiry?
Three people have so far been charged with carrying out the journalist's murder but police have continued to investigate in the hope of finding out who ordered the killing.
The late journalist's sister, Corinne Vella, told the BBC it was time the truth came out.
"We're finally starting to see some progress in the investigation into Daphne's murder," she said.
"It's welcome, it's important, but it's very far long overdue. To us, Daphne's death has always been linked to her work, and we've maintained all along that justice for Daphne means justice for her murder, but also justice for all her stories, because to us they were connected."