Albania earthquake: Rescue effort intensifies amid fresh tremors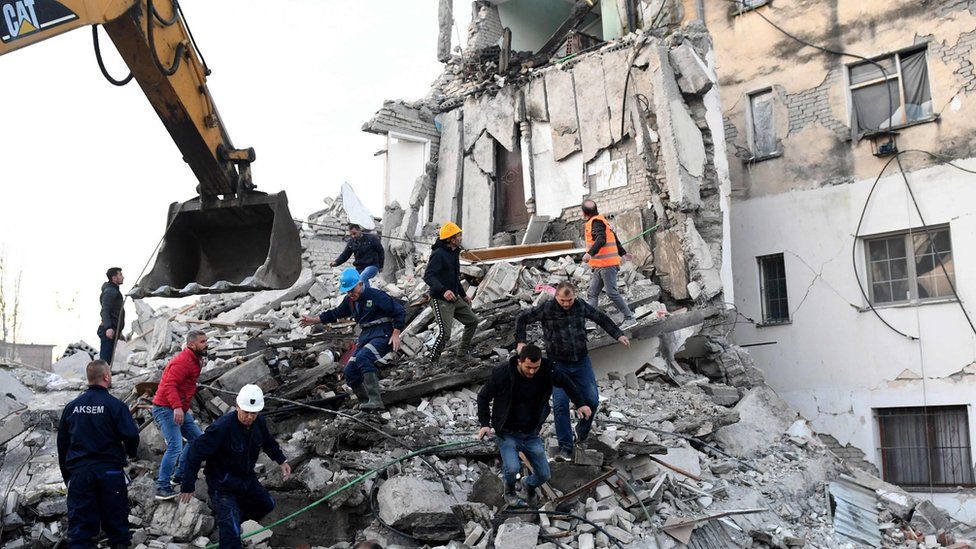 Rescuers from several countries are scrambling to find survivors of the earthquake which hit Albania, killing 30 people and injuring hundreds more.
Using sniffer dogs, they are sifting through rubble, 36 hours after the magnitude-6.4 tremor.
Whole families have perished - and thousands are staying out in the open as powerful aftershocks hit.
Most of the deaths occurred in the coastal city of Durres and the town of Thumane, close to the epicentre.
Tuesday's earthquake was the strongest to hit Albania in decades. A tearful defence minister said three children were among those killed, and while homes could be rebuilt the 28 people killed could not be brought back.
The quake struck 34km (21 miles) north-west of the capital, Tirana, as people slept in their beds during the early hours.
The latest aftershock - a magnitude 5.6 - is said to have damaged a building in Durres next to one where intense rescue efforts are under way.
More than 45 people have been pulled from the rubble and Prime Minister Edi Rama has promised that rescuers will "continue to search patiently and thoroughly to the end". He said all those affected would be sheltered in hotels until the government rebuilds their homes.
A day of mourning is being observed in Albania and neighbouring Kosovo.
Where is the rescue work focused?
Tuesday's quake caused considerable damage in Thumane and Durres, where entire blocks of flats collapsed. Local media report that at least 20 people are buried under the rubble.
Teams from Italy, Greece, Romania, France, Switzerland, Turkey, Serbia, Croatia, Montenegro, North Macedonia and Israel are helping with the search efforts.
Italian firefighters said they were working "relentlessly" at the site of a collapsed four-storey building in the Knet district of Durres, where six people are reported missing.
The largest deployment has come from the Kosovo Security Forces (KSF). Pictures show a large column of KSF vehicles arriving. The troops are specially trained to help with natural disasters.
Kosovo has also sent police to Albania to help maintain law and order.
In Thumane, rescuers are combing the rubble of a five-storey building.
And in Durres, two three-year-old twin sisters are at the centre of one rescue effort - they are part of an extended family with many members missing.
Hundreds of people spent the night in tents or cars, fearing another tremor.
In Durres, a woman called Bukuri Morina and her family of 10 joined thousands of others to spend the night at the football stadium.
"We are afraid to go back to our apartment," she said. "There are cracks all over and we are afraid that we will have the same destiny as people in Thumane."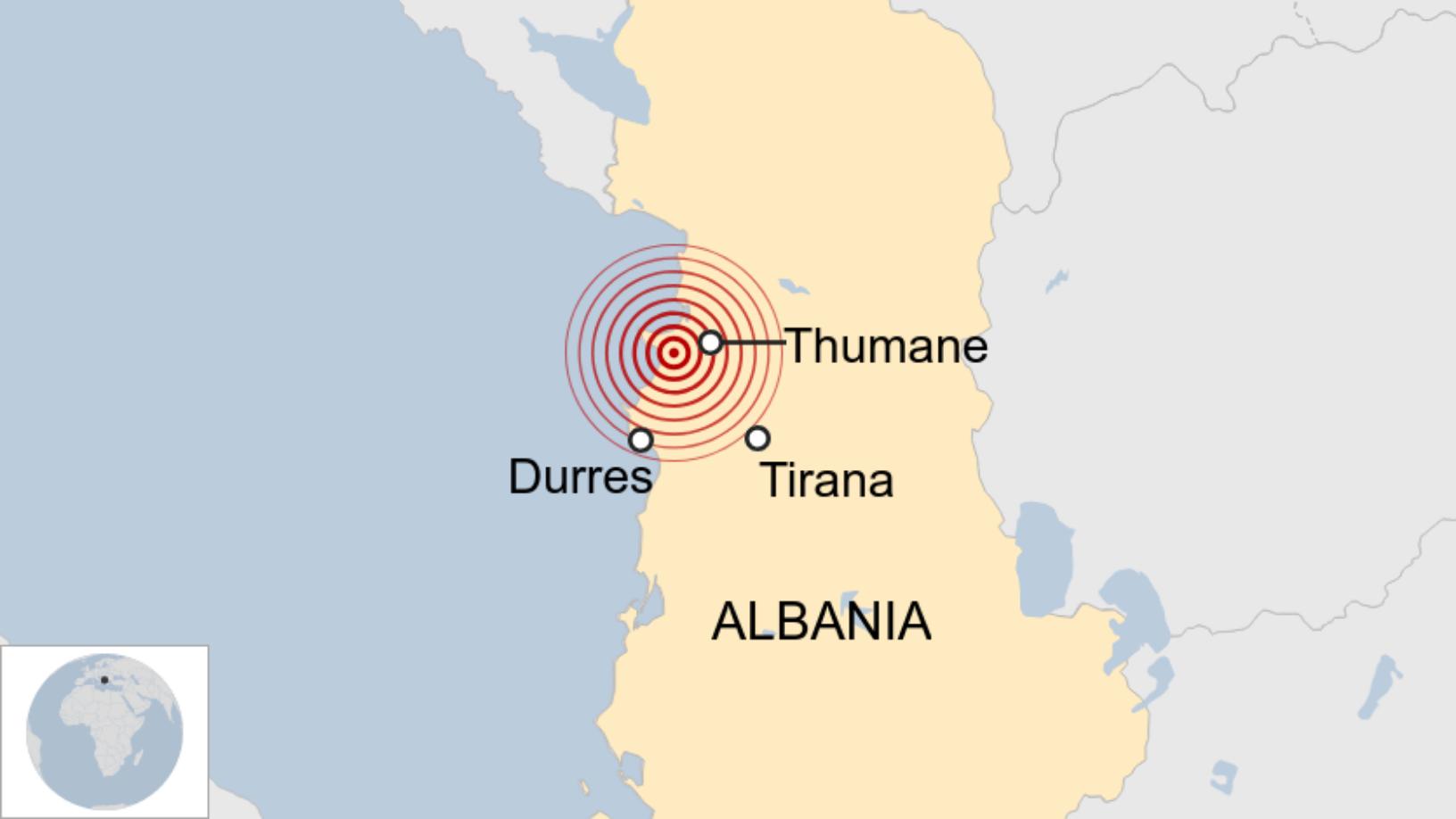 All festivities coinciding with Albania's independence day on Thursday have been cancelled.
The government has introduced a state of emergency - enabling more funds and security - in the worst affected areas.
Thirty-year-old painter Diena Mecaj was pulled out alive from a six-storey block of flats in Durres, but could not survive her injuries. Two hours later the body of her daughter, aged eight, was brought out of the rubble.
Mecaj lost her husband in 2015, reports say. In Facebook posts she had described life without him as a challenge.
Three members of the Gregu family perished in Thumane. Pellumb and Celike Gregu's bodies were recovered early on Wednesday, hours after their son, Saimir, died in hospital.
Kristi Reci's body was recovered alongside that of her father, Eduart, in their collapsed apartment in Durres. She was a 25-year-old medical student in Tirana. Rescuers were still looking for her mother and brother.
Two brothers from Kosovo are among the victims.
Shemsedin Abazi, 32, and his 29-year-old brother Isa were staying Hotel Tropikal in Durres. When the earthquake struck, they phoned for help, but by the time rescuers pulled them out - some 15 hours later - they were already dead.
The brothers had arrived in Durres only hours before the earthquake on a regular trip to put in a few days' work as mechanics. Like Albania, Kosovo was observing a day of mourning on Wednesday.
Among the tragedies that took place as the quake struck, one man died in a car accident when the quake tore open parts of a road. Another man leapt from his balcony in panic but did not survive.
As the rescue effort continued, a 31-year-old man from Thumane died in hospital on Wednesday and two other bodies were found in the rubble.
Are earthquakes common in Albania?
The Balkans is in an area prone to seismic activity, lying close to a fault line between the Eurasian and African tectonic plates. Albania sits on a smaller, Adriatic tectonic plate.
Tuesday's quake was Albania's worst for decades.
In April 1979, a magnitude-6.9 quake hit Albania and northern neighbour Montenegro, leaving 136 dead and more than 1,000 injured.
That was described as the strongest ever recorded in the Balkans, more powerful than a 6.1 magnitude earthquake in July 1963 that killed more than 1,000 people in the Yugoslav republic of Macedonia.
Three-quarters of the capital Skopje was destroyed and 200,000 people left homeless.