Black Friday backlash: Protests against Amazon erupt across France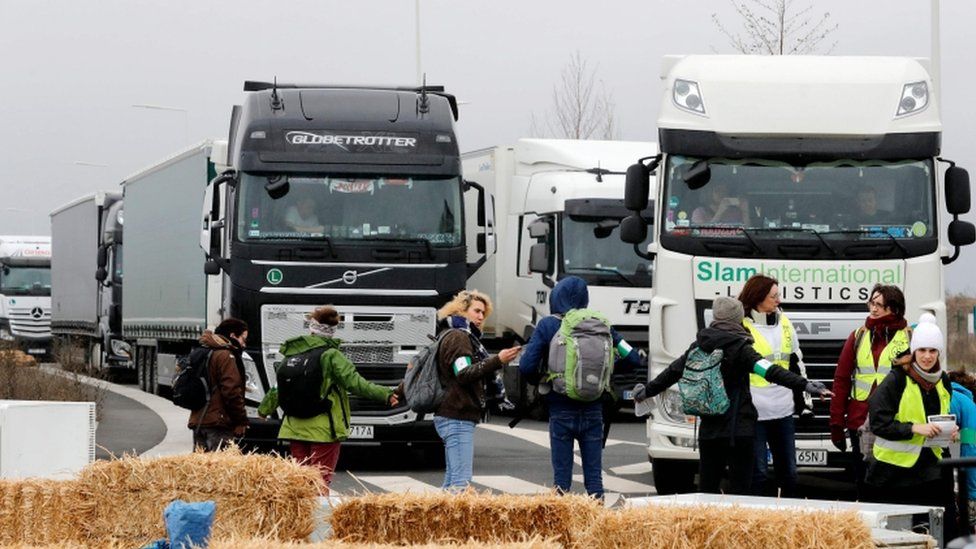 Activists across France have staged Black Friday protests against Amazon, decrying consumerism and its impact on the environment.
Dozens of protesters gathered outside the company's French headquarters in Clichy, north of Paris.
Protesters also tried to blockade a shopping centre in Paris and a logistics centre near the eastern city of Lyon.
In video from Lyon riot police can be seen dragging activists away.
The protests aimed to disrupt Black Friday, a discount shopping day that activists have blamed for environmental damage.
In response, Amazon told the BBC it respected the right to protest but disagreed with "the actions of these individuals".
Similar protests against Amazon erupted in other European countries, including Germany, where workers from six distribution centres staged a walkout over pay and conditions.
The union Verdi, which called the strike, said its members' hard work could not be bought for "knock-down prices".
Some French lawmakers want to ban Black Friday because of its environmental impact, and Environment Minister Elisabeth Borne has warned against the "consumption frenzy" linked to the event.
The shopping day began in the US on the Friday after Thanksgiving but in recent years spread to other countries.
Why did the activists target Amazon?
Environmentalists have accused Amazon of accelerating climate change through its rapid delivery services, which they say contribute to greenhouse gases emissions.
Manon Aubry, a left-wing member of the European parliament, said the protest was intended to "denounce the social, environmental and fiscal damage from Amazon".
Coline Vanhenacker, a spokeswoman for environmental group Friends of the Earth, said Amazon represented "overproduction, overconsumption and overwaste".
"Today 25% of French greenhouse gas emissions are linked to textiles and electronics products and Amazon is the leading distributor so we have to put a stop to it," she said.
Where are protests happening?
The demonstrations, dubbed "Block Friday", are aiming to disrupt Amazon's business operations in France and other countries.
One of the groups involved in organising the protests, anti-globalisation movement Attac, said it would "take action across France to disrupt Amazon's business".
France's first protest was held on Thursday, when dozens of activists formed a human chain, lay on hay bales and dumped old fridges and microwaves outside the Amazon depot in Bretigny-sur-Orge.
At the protest, about 40km (24 miles) south of Paris, some activists held banners which read: "Amazon: for the climate, for employment, stop expanding, stop over-production".
More demonstrations took place on Friday, with environmental groups threatening to turn 29 November into a "Black Day for Amazon".
As of Friday morning, dozens of activists from various groups had gathered outside Amazon France's facilities, including its headquarters in Clichy. They held up a sign saying: "No to Amazon and its world."
In Lyon, a sit-down protest outside an Amazon distribution centre degenerated into skirmishes between activists and riot police carrying batons and shields.
One of the groups involved, Lyon Climat, accused the police of being heavy-handed. Footage posted to social media showed police hauling some activists along the floor.
In Paris, around 40 young protesters attempted to block the doorway of a large shopping centre in La Défense business district of the city.
They linked arms to stop people entering the shopping centre and chanted: "Work, consume and shut up, that is the message given to our youth."
In a statement, Amazon said it respected "everyone's right to voice their opinions" but disagrees with the means used by some protesters. It accused Attac of spreading "false allegations" and "pointing the finger at Amazon for political ends".
"Amazon directly employs 9,300 people in France, provides business opportunities for thousands of companies and SMEs in France, and has made ambitious commitments in our 'Climate Pledge' plan to become a net zero carbon company ten years ahead of the Paris Climate Agreement," the company told the BBC.
"Any suggestion to the contrary is simply wrong."
A third of people surveyed by YouGov France said they were not planning to take part in this year's sales. A majority of respondents - 57% - said they believed the promotions were false.
Are French MPs banning Black Friday?
Some MPs want to, citing concerns over the effects of consumerism on the planet.
An "anti-waste" bill was amended to include a proposal to prohibit Black Friday by a French legislative committee on Monday.
France's former Environment Minister Delphine Batho tabled the amendment, which will be debated next month in the National Assembly, the lower house of parliament.
"Black Friday celebrates a model of consumption that is anti-ecological and anti-social," said MP Mattieu Orphelin, a former member of President Emmanuel Macron's LREM party.
A trade union in France has opposed the proposal. So too have conservative MPs, including Republican lawmaker Eric Woerth, who called the debate over the amendment a "useless row".
Paris Mayor Anne Hidalgo is considering implementing new regulations to protect the climate, including a tax on deliveries to ease traffic jams and pollution caused by Amazon and other companies.