Popocatépetl: Mexico volcano forces KLM flight back to Amsterdam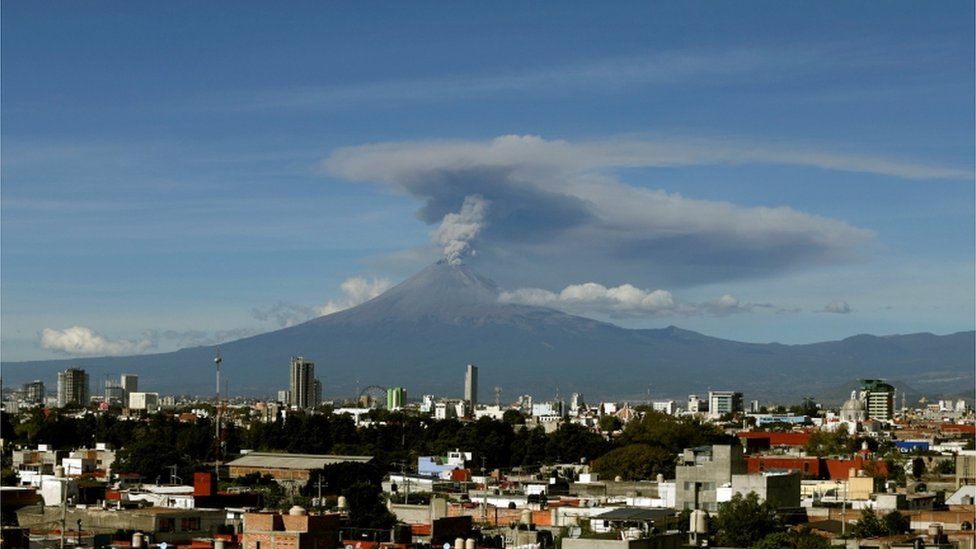 A flight from Amsterdam to Mexico City had to turn back in midair because of a volcanic ash cloud, Dutch airline KLM has said.
Flight KL685 was thousands of feet over Canada when activity from the volcano Popocatépetl near the Mexican capital forced it back across the Atlantic.
Passengers spent 11 hours in the air, only to disembark in the same city.
A KLM spokeswoman told the BBC the plane was also carrying a large number of horses at the time.
The spokeswoman could not be drawn on exactly what caused the captain to turn back to the Netherlands, saying there were "many reasons" behind such decisions, but admitted the equine cargo may have been a factor.
KLM has apologised for the inconvenience and rebooked flights for all passengers.
The flight, which set off at about 15:00 local time (14:00 GMT), arrived back at Schiphol airport at 02:30 the next morning "where the passengers have been cared for and have been rebooked," a KLM statement said.
"Our operation to Mexico will run on schedule again as of today," the airline said.
Maps of the plane's flight path posted online show it was over New Brunswick in Canada when it turned around.
Popocatépetl is Mexico's second highest peak, and stands 70km (43 miles) from Mexico City.
The volcano has been active throughout the year, and most recently erupted earlier this month, pumping ash and gases high into the air.
Flight KL685 is far from the first to be disrupted by a troublesome volcano.
In 2010, thousands of planes were grounded when Iceland's Eyjafjallajökull erupted and covered Europe with a giant ash cloud.