Putin defends rebel leaders in eastern Ukraine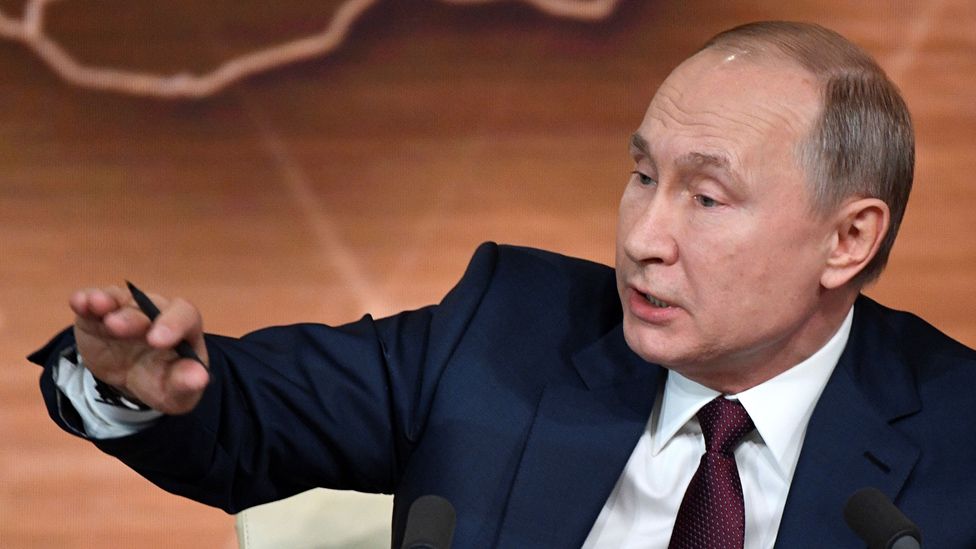 Russian President Vladimir Putin has defended the pro-Russian rebels in eastern Ukraine, calling for direct talks between them and the Kyiv government to help restore peace.
He said Ukraine had accepted the rebel leaders' signatures on the 2015 Minsk ceasefire deal, so recognising them.
The separatists launched a Russian-backed insurgency in April 2014, seizing most of the Donbas region.
Ukraine denounced the rebels' claim to independence as an illegal revolt.
Mr Putin was speaking at his annual wide-ranging, marathon press conference, broadcast live on all major TV channels.
Could Putin stay on beyond 2024?
There is much speculation about who might succeed Mr Putin to the presidency in 2024. He is currently in his fourth presidential term, though he had a break in between, serving as prime minister.
Twice Mr Putin has had consecutive terms as president: first when he served in 2000-2008, then since 2012. He was re-elected last year.
He said it would be acceptable to change the constitution to remove the word "consecutive" in the clause which sets a limit of "two consecutive presidential terms".
However, he did not state any preference about the succession in 2024.
No clarity on Putin successor
By BBC Moscow Correspondent Sarah Rainsford
On the 2024 question the president's annual press conference has added confusion, not clarity.
Mr Putin mused - almost as an afterthought - that the word "consecutive" might be removed from the clause in the constitution that bars two presidential terms on the trot. Would that mean Mr Putin could rule on? Or that two terms, consecutive or not, would be tops for anyone?
Commentators here really aren't sure. There were other attempts to draw Mr Putin out on his plans. But he avoided one question on whether he might take over a revamped Russia-Belarus Union State.
He made vague hints about beefing up the powers of parliament versus the president; and he ignored a direct question on how any "transition of power" might look. Vladimir Putin only lapped up that reporter's accompanying comment, that after 20 years in power Russians "don't want to let you go".
BBC Russian asked Mr Putin to confirm that Maria Vorontsova and Katerina Tikhonova - two prominent businesswomen who have appeared in Russian media - are his daughters.
But he dodged the question, instead praising the women's business activities. Formerly head of Russia's secret police, Mr Putin keeps his family affairs well shielded from the media.
Putin's red lines on Ukraine
He ruled out any revisions to the Minsk ceasefire deal, saying it was the only basis for settling the Donbas conflict.
Mr Putin also pledged to continue with the "Normandy format" talks - which aim to resolve the conflict in Donbas - commenting on his summit in Paris on 9 December with Ukraine's President Volodymyr Zelensky.
Mr Putin said Mr Zelensky's predecessor, Petro Poroshenko, "insisted that the leaders of the two unrecognised republics sign the Minsk accords".
"We persuaded them to sign. So, Ukraine itself acknowledged that those authorities exist."
A journalist from Ukraine had asked him when he would disband the forces of breakaway Donetsk and Luhansk - the two Donbas regions which claim to be independent "republics".
Mr Putin again denied that there were any Russian regular troops there helping the rebels.
"There are no foreign troops there - they are local militia, self-defence forces from the local population," he said.
Ukrainian and Western military experts say there is clear evidence of regular Russian units helping the rebels, who have modern Russian tanks and artillery.
Mr Putin suggested that the Soviet Union's revolutionary founder - Vladimir Lenin - had made a mistake by granting territory to various nationalities - including the Ukrainians - as part of a new "confederation".
"Territories were divided up incorrectly, and this is still being felt. Stalin was against such a system, but finally he accepted it," Mr Putin said. "Historically Russian land" was given to Ukraine, he said, "based on a strange argument: to increase the proletariat's area".
He also said there was no need to move Lenin's embalmed body from the Lenin Mausoleum on Red Square, in central Moscow. He said the place remained very meaningful for many older Russians.
Mr Putin said criminal cases had been launched against five policemen - suspended from their jobs - over the arrest of investigative journalist Ivan Golunov on false charges earlier this year. There was a public outcry over Mr Golunov's prosecution and drug-dealing charges against him were dropped
Mr Putin condemned as "unfair" the sports sanctions imposed on Russia over doping of athletes. He said "any punishment should be individual". "Our team should be allowed to participate under its own flag. Deal with specific people," he said. "We are doing everything to ensure that Russian sport is clean." Russia is to appeal against its four-year ban from major sporting events, imposed by the World Anti-Doping Agency (Wada)
Mr Putin was also asked about the case of Zelimkhan Khangoshvili, a Georgian of Chechen origin shot dead in a Berlin park in August. Germany suspected Russian involvement, and there were tit-for-tat expulsions of diplomats - two by each side. Mr Putin said Khangoshvili was "a bloodthirsty murderer, he killed 98 people in just one terrorist action". "We see these people are terrorists, murderers, walking freely around the world's capitals."