El Gordo: Winners celebrate share in world's richest draw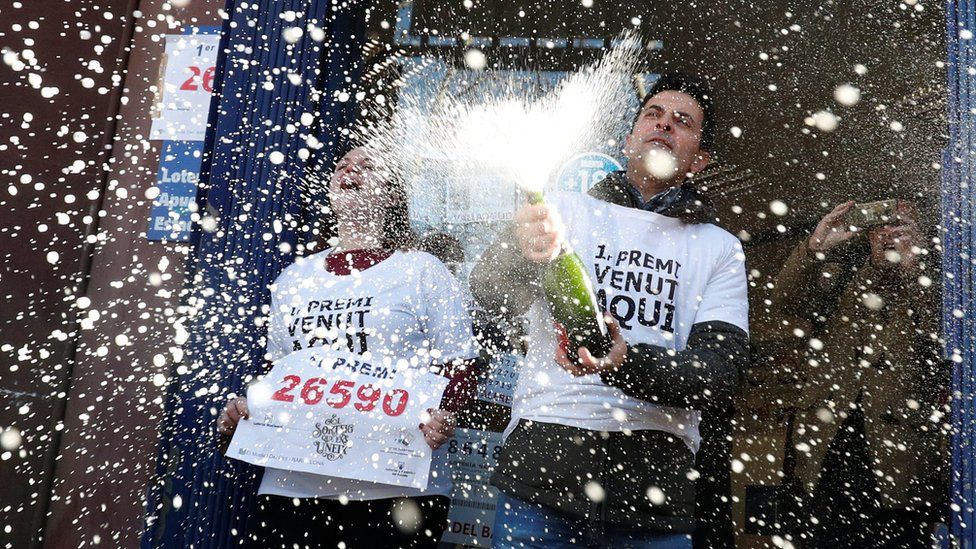 Thousands of people have been celebrating in Spain after winning a share of the €2.38bn ($2.64bn; £2.03bn) prize pot in the world's richest lottery.
Dozens of ticket holders queued through the night outside Madrid's Royal Theatre to watch the draw of El Gordo, which means "the fat one" in Spanish.
There are 170 sets of 100,000 tickets, with each full ticket - costing €200 - entering players into the draw to win the top prize of €4m.
The most common ticket is €20, which gives buyers the chance to win 10% of the top prize - €400,000, before tax. There are also thousands of smaller prizes.
The winning number for the top prize this year was 26590.
Because the rules of the draw are so complex, and players can buy multiple tickets with the same numbers, it is almost impossible to gauge how many people have won.
Winners and the vendors who sold the tickets popped bottles of cava to celebrate.
The jackpot structure is designed to allow as many people as possible a win - even a small one - or to at least break even with a free ticket.
Every year, millions of people in Spain club together with friends and family for the chance to get a slice of the winnings. Each ticket can be split 10 ways.
Those who bought and sold tickets corresponding with smaller prizes also celebrated on Sunday.
Many of those attending Sunday's draw dressed in eccentric costumes.
The lucky numbers were pulled out of large golden spheres and sung out by schoolchildren in a live televised event.
Spain's Christmas lottery tradition has been going for more than 200 years.
It was first broadcast in 1957 - just one year after Spain got television.
All pictures subject to copyright.