Cork: Murder inquiry begins after dismembered body found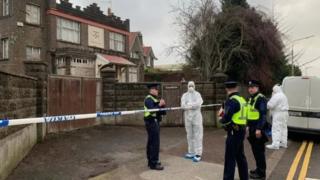 A man whose dismembered body was found outside a house in Cork has been identified as Frankie Dunne, 64.
Gardaí (Irish police) have launched a murder inquiry.
Mr Dunne's body was found on Boreenmanna Road, one kilometre from Cork city centre, at about 16:00 local time on Saturday.
His remains had been there for several days. Mr Dunne was from the north side of Cork city.
Irish broadcaster, RTÉ, is reporting that he had been decapitated and that his head and arms were found in the grounds of the house.
Speaking at a press conference, Det Supt Michael Comyns said the full extent of the man's injuries will not be known until a post-mortem examination is completed.
Derelict site
Det Supt Comyns said the man's body had been discovered by a neighbour on Saturday evening in the backyard of the house.
He said gardaí were conducting house-to-house inquiries.
"We are appealing to anyone who can assist us with our investigation to contact us," he said.
"The discovery was made at a derelict site on Boreenmanna Road, along a busy traffic route in and out of the city centre.
"We are appealing to both motorists and pedestrians who may have been in the area since Christmas Day to come forward.
"We are particularly appealing to motorists to make any camera footage (including dash-cam) from the area available to us."