Austria backs green agenda with new coalition deal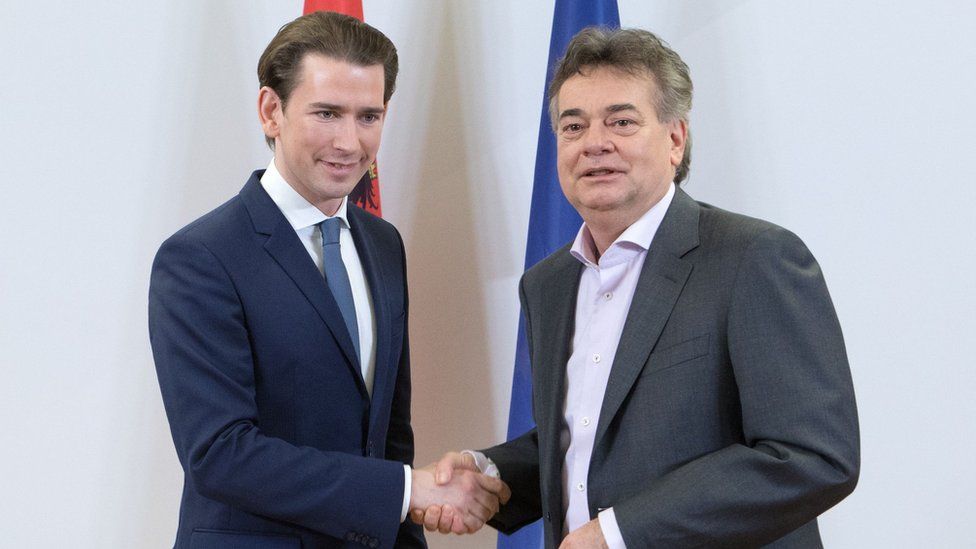 Austria's right-wing leader Sebastian Kurz has put forward a coalition plan with his new Green partners, including more ambitious measures to decarbonise the economy.
They aim to put Austria on a path to becoming climate-neutral by 2040 - ten years earlier than the EU's goal.
Climate neutrality means balancing greenhouse gas emissions with measures that absorb or eliminate carbon.
The conservatives won a snap September election, and the Greens made gains.
Mr Kurz said the joint programme also included many of his People's Party (ÖVP) priorities, like lower income taxes and stricter controls on migration.
The ÖVP had been in coalition with the far-right Freedom Party (FPÖ) until a scandal toppled the government in May. The FPÖ got entangled in a video sting scandal, dubbed "Ibiza-gate", involving cash for favours.
The Green Party is entering national government for the first time.
The new coalition line-up still has to be formally approved by both parties. Under the plan, the ÖVP will have 11 ministerial posts and the Greens four.
"We succeeded in uniting the best of both worlds," Mr Kurz said. "It is possible to protect the climate and borders."
Banning the wearing of Islamic headscarves by girls in school aged up to 14; a current ban applies to girls aged 10 and below (Austria has banned full-face veils since 2017)
Lowering the three income tax bands: from 25% to 20%; from 35% to 30% and from 42% to 40%
Cutting the corporate tax rate to 21% from 25%
Producing 100% of electricity from renewable sources by 2030
A new flat-rate air passenger tax of €12 (£10; $13) - an increase overall on the current air taxes
A €3 day ticket, to make public transport cheaper
Greens leader Werner Kogler said Austria should now become a European leader on climate change issues.
Mr Kurz is poised to return as Austria's chancellor, with Mr Kogler as vice-chancellor.
Among the prospective Green ministers is 35-year-old Alma Zadic, a lawyer born in Bosnia, who is set to run the justice ministry. She is likely to push for a more open immigration policy.
But the government fell apart in May over the "Ibiza-gate" scandal.
Journalists revealed secret recordings of FPÖ leader Heinz-Christian Strache, promising government contracts to a woman posing as the niece of a Russian oligarch at a villa on the Spanish island.
Snap elections followed in September. The ÖVP came out unscathed, winning in eight of Austria's nine federal states and increasing its share of the national vote to 37%. The FPÖ, in contrast, only won 16%, a sharp fall from its 2017 performance.
Mr Kurz's party however did not gain a majority and began coalition talks with smaller parties - including the Greens, who had won 14% of the vote.
Green leader Mr Kogler said straight after the September election that the next government would need to see "radical change" from the right-wing policies pursued by the previous coalition.
A Green party congress must still endorse the coalition with the People's Party. Its roughly 280 delegates are however expected to approve the agreement.