Cardinal Barbarin: France's top cleric cleared of abuse cover-up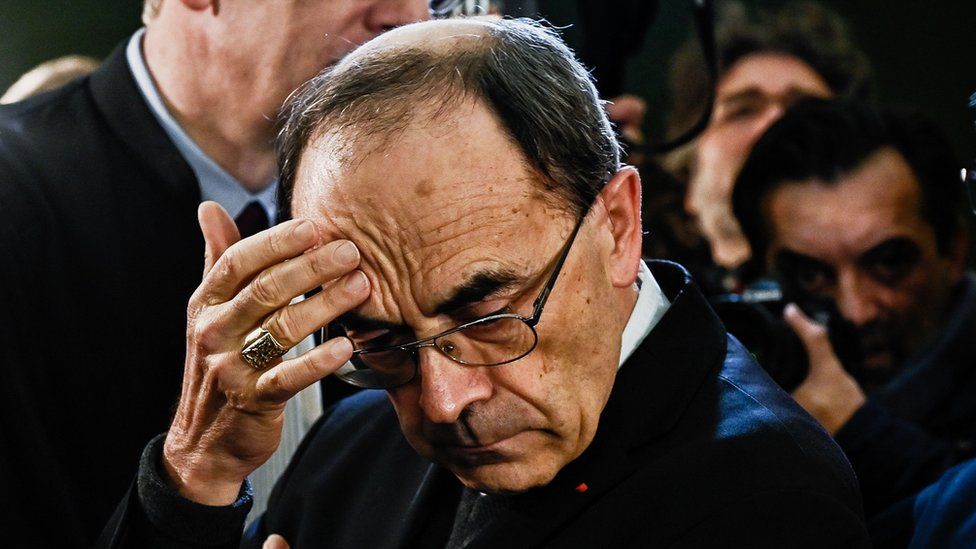 France's top cleric, Cardinal Philippe Barbarin, who was found guilty of failing to report past acts of sexual abuse by a priest, has had his conviction overturned on appeal.
The case has rocked the French Catholic Church.
He was the highest-profile cleric to be caught up in a child sex abuse scandal inside the French Church.
What are the accusations?
At the centre of the accusations is former French priest Bernard Preynat, who has been charged with assaulting dozens of boy scouts in the 1980s and 1990s.
He said his superiors knew about his "abnormal" behaviour as far back as the 1970s.
Cardinal Barbarin has admitted to knowing of "rumours" about Mr Preynat as far back as 2010, but says he only became aware of the alleged abuse after a conversation with one of the victims in 2014.
He later informed the Vatican of the allegations, and removed Mr Preynat from his position - but never informed police.
The allegations then became public in 2015.
Why was the ruling overturned?
Cardinal Barbarin was found guilty last March of covering up Mr Preynat's sexual abuse.
During the trial, he insisted that he had "never tried to hide, let alone cover up, these horrible facts".
He filed an appeal following the ruling, saying: "I cannot see clearly what I am guilty of".
Following Thursday's ruling, Cardinal Barbarin's lawyer, Jean-Felix Luciani, said the court in Lyon had accepted the evidence of a victim who had written to the cardinal to thank him for his advice on bringing Mr Preynat to justice.
Mr Luciani said the cardinal told the victim that the abuse he'd suffered happened too long ago to be prosecuted, and advised him to find more recent incidents.
"The court has just acquitted the cardinal on the fundamentals of the case, by indicating that no offence has been committed, for a number of reasons...and for one key reason in particular: that the cardinal never intended to obstruct justice," he told reporters.
"This wrong was today righted...Cardinal Barbarin is innocent," he said.
Cardinal Barbarin had offered his resignation to Pope Francis following the original ruling, but the Pope refused it pending the outcome of his appeal.
The case against him came amid a number of other Catholic scandals around the world.
You might be interested in watching: