Irish general election: Parties turn their focus towards government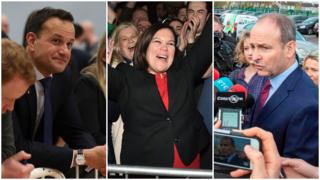 Ireland's three largest political parties will turn their focus towards the formation of a new government after the final general election results were confirmed.
Fianna Fáil won the most seats with 38, just one ahead of Sinn Féin who celebrated their best-ever result.
Fine Gael finished with 35 seats, down 15 from the 2016 general election.
The tight electoral numbers means that negotiations to establish a government could be prolonged.
A party has to win 80 seats in order to gain a majority in the 160-seat Dáil Éireann (Irish parliament).
Although Fianna Fáil finished with one more seat than Sinn Féin the two parties had the same number of TDs elected, because one of Fianna Fáil's candidates was elected automatically as he was the ceann comhairle (speaker) of the Dáil.
Before the election, both Fine Gael and Fianna Fáil had ruled out forging a coalition with left-wing republican party Sinn Féin, citing its tax policies and IRA past as deterrents.
But on Tuesday, Sinn Féin leader Mary Lou McDonald said she welcomed that "Fianna Fáil have shifted their position about talking to Sinn Féin and understand that this election has changed everything".
Sinn Féin said it would seek meetings "with all parties, beginning tomorrow [Wednesday] with those parties who received a mandate for change".
The party has appointed its Donegal TD Pearse Doherty to lead its negotiating team as attempts to form a new government get under way.
The Irish Independent has reported Mr Doherty will be assisted by Eoin Ó Broin, Louise O'Reilly and Matt Carthy in the negotiations with other parties.
As the results were coming in on Sunday, Fianna Fáil leader Micheál Martin did not rule out working with Sinn Féin, but said "significant incompatibilities" still existed.
For now, government ministers, including taoiseach (Irish PM) and Fine Gael leader Leo Varadkar, remain in post.
The Irish constitution stipulates they "continue to hold office until their successors shall have been appointed".
'I may well be the next taoiseach'
Ms McDonald, who topped the poll in her four-seat Dublin Central constituency, said on Monday that Sinn Féin wanted to be in government and was working to establish if the numbers were there to deliver it without Fianna Fáil or Fine Gael.
That evening, she said she had not heard from the leaders of those two parties and has instead been speaking to Labour, the Green Party and other smaller parties that make up the Dáil (Irish parliament).
She said that people wanted "different politics, new politics and better government" and "that Sinn Féin will be the core of that".
"I may well be the next taoiseach," she added.
Speaking to BBC's Newsnight programme, Ms McDonald said she would be asking the EU to support Irish reunification if she was part of the next government.
"I think even aside from the election, you have Brexit, you have changing demographics, you have the fact that the unionist majority has been lost in the north over the last number of elections," she said.
"So that is the direction of travel, and you know anybody who is in touch with the dynamic of politics on this island knows that."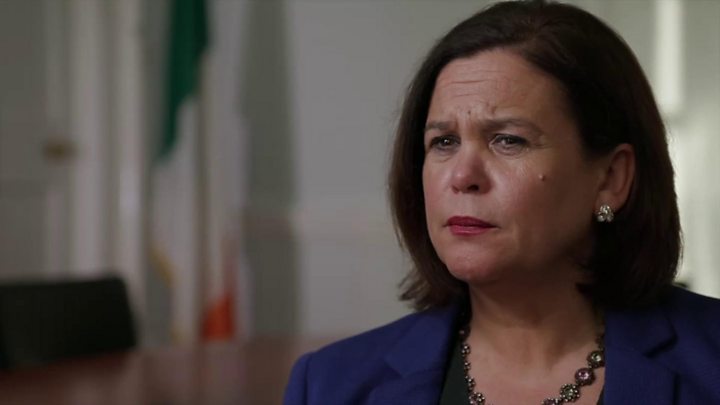 Speaking to BBC Radio Ulster's Good Morning Ulster programme on Tuesday, the DUP MP Sir Jeffrey Donaldson said the Irish election was fought on "bread and butter issues" and the result does not indicate a demand for a border poll.
"When you consider that Sinn Fein got less than 25 percent of the vote in the Republic and less than 25 percent of the vote in Northern Ireland, that is hardly a mandate for a border poll," he said.
"Most of the other parties, both in Northern Ireland and in the Republic have said now is not the time for a border poll."
Jonathan Powell, a former Downing Street chief of staff, said he believes a united Ireland is "now possible".
"If you had asked me in '97 I'd have said there was no chance. I'd now say in the next decade it does seem to me possible because of the way that Brexit is going to be engineered and the way it is going to be implemented," he told The Nolan Show.
"Through Brexit, Boris Johnson has done more for a united Ireland than the IRA ever did in its whole history."
Why the Sinn Féin surge?
Left-leaning Sinn Féin managed to successfully tap into the public anger felt in the Republic of Ireland over issues that have dogged centre-right Fine Gael for a number of years - a shortage of housing, rocketing rents and homelessness, analysts suggest.
That is despite the fact the country is forecast to have one of the fastest growing economies in the EU in 2020.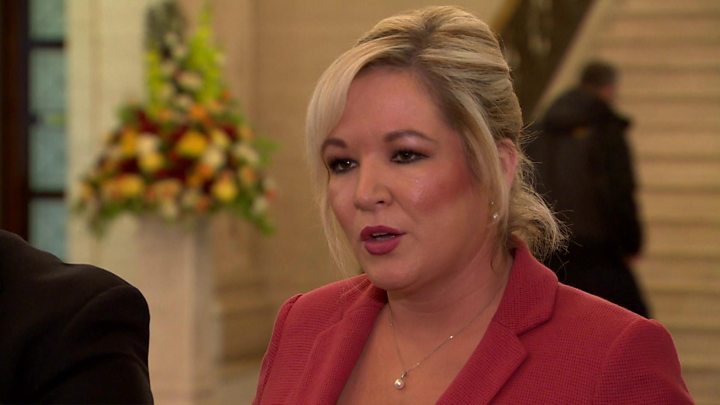 Brexit - a considerable focus on Leo Varadkar and his deputy Simon Coveney while in power - barely registered as an issue in the campaign.
Democratic Unionist Party (DUP) leader Arlene Foster, whose party is in a power-sharing government with Sinn Féin in Northern Ireland, said younger voters had backed Sinn Féin as a "protest vote".
"From a Northern Ireland perspective we will have to work with whoever the government is in the Republic of Ireland," Mrs Foster told BBC News NI.
She also said Sinn Féin may have their focus on Northern Ireland questioned, in the way there had been a "wailing and gnashing of teeth" over her party's confidence-and-supply agreement with the previous Conservative government in the UK.
Sinn Féin's best-ever result in the Republic of Ireland is the success story of this election.
However, with how the overall vote has broken down we know that Sinn Féin will not necessarily end up in government despite its swathe of victories.
The magic number for winning a majority government in the Republic of Ireland is 80 seats.
None of the three big parties - Fine Gael, Fianna Fáil and now Sinn Féin - came anywhere close to that figure.
Attempts to form a new coalition-of-sorts are already getting under way, although this will be complex.
Previous administrations in the Republic of Ireland have been forged this way too, but it's taken a while to get there.
In 2016, it took 70 days for a government to be formed after the parties agreed a confidence-and-supply agreement, which saw a Fine Gael-only cabinet, propped up by Fianna Fáil votes on key policy areas.
Read more of Jayne's analysis here.