Canary Islands sandstorm: Flights disrupted as dust cloud strands tourists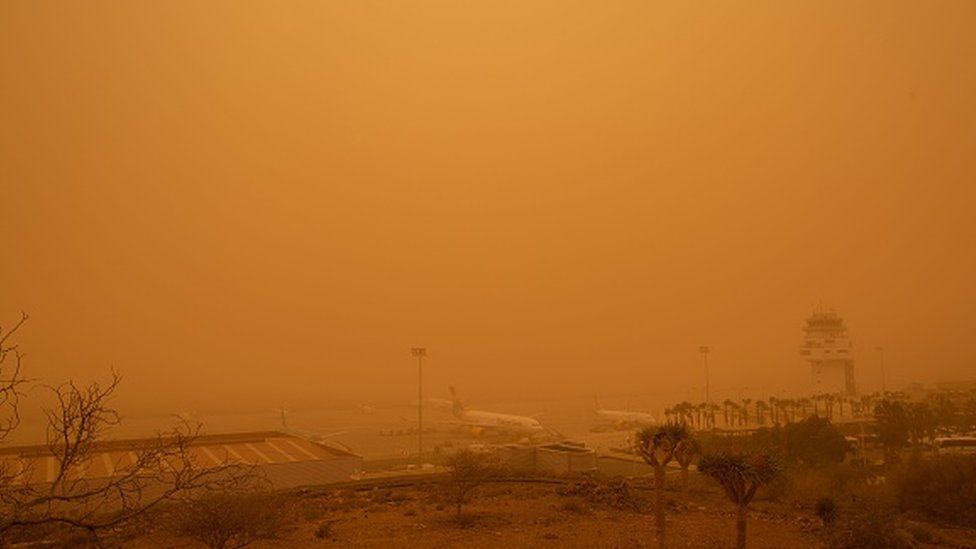 A vast sandstorm from the Sahara has shrouded Spain's Canary Islands, disrupting travel plans for tourists flying in and out.
Airport operator Aena cancelled, suspended or diverted all flights to and from the islands at the weekend, citing low visibility.
But on Sunday operations resumed at all airports except Tenerife South.
The regional government has issued an alert, advising people to stay indoors and avoid travel.
Spain's national weather service forecast winds of up to 120km/h (75mph) in the Canaries until Monday.
Strong winds have carried a dense cloud of sand from the Saharan desert, some 500km (300 miles) across the Atlantic Ocean.
Ferry services and efforts to tackle wildfires on Gran Canaria island have also been hampered by the winds.
The Canary Islands, which include Tenerife, Fuerteventura, Gran Canaria, Lanzarote and La Palma, are popular with European tourists in search of winter sun.
Saharan winds have also caused disruption in other parts of West Africa. Earlier this month, Nigeria's aviation ministry warned that poor visibility could disrupt flights from the commercial capital Lagos until the end of February.
What is the situation with tourists?
Hundreds of flights have been affected by the weather conditions, leaving tourists stranded at airports across the Canaries. On Sunday, 822 flights were affected, Aena said in a tweet.
Aena advised passengers to check the status of their flight with their airline.
"We're staying in regular contact with our customers and we look forward to getting them on their way tomorrow [Monday]," a spokeswoman for airline British Airways said.
Alison Lagier from Rhondda, south Wales, was due to fly back to Cardiff from Gran Canaria on Saturday. She told BBC Radio Wales there had been little communication and that passengers had not been provided with food vouchers or drinks.
"I'm really worried about things like there's people who've got medication in their cases - none of us has had our cases since Friday," she said. "There's people who are running out of insulin. It's really difficult there at the moment."
What is happening with the wildfires?
Firefighters are battling to contain wildfires in Gran Canaria and Tenerife, where temperatures have soared above 30C in recent days.
In south-west Gran Canaria, near the village of Tasarte, blazes have scorched around 300 hectares of land, forcing the evacuation of 500 people.
On Saturday, strong winds prevented water-dropping aircraft from tackling fires near Tasarte.
On the neighbouring island of Tenerife, about 1,000 locals and tourists were evacuated as a precaution because of the risk from blazes.
Pedro Marin, head of Tenerife's local government, described the scale of the wildfires as "a completely unusual situation".