Left-wing Irish government unlikely says Micheál Martin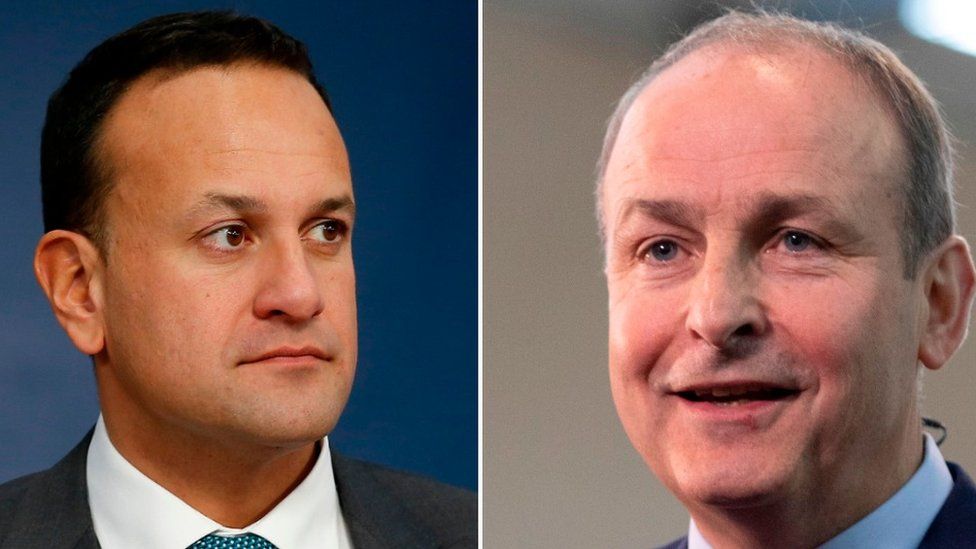 A left-wing government in the Republic of Ireland led by Sinn Féin is very unlikely, Fianna Fáil leader Micheál Martin has said.
Mr Martin was speaking after he held a meeting with Fine Gael leader Leo Varadkar on Tuesday.
It was the first sit-down discussion between the two party leaders since the Irish general election.
Fianna Fáil won the most seats in the Dail (parliament) in January's election with 38, one ahead of Sinn Fein.
However, Sinn Fein had the highest number of first preference votes.
Parties need 80 seats to form a government.
"Very clearly you can see the so-called left wing alliance that was trumpeted over a week hasn't really made any progress in terms of numbers in the Dail," Mr Martin said.
"That remains a very unlikely scenario in terms of any combination on the far left, or Sinn Féin emerging with any credible numbers to form a government."
Fine Gael, which had relied on a 2016 confidence and supply arrangement with Fianna Fáil to remain in government, finished with 35 seats.
Mr Martin said no-one had ruled out a reverse confidence and supply arrangement between Fianna Fail and Fine Gael.
"There are two aspects to that," he said.
"Could you achieve a critical mass that could sustain under a confidence-and-supply arrangement, and secondly would the dynamic be such that it would enable that government to take decisions that I think will be needed to make meaningful inroads on the housing crisis and on the health crisis and also climate change?"
Mr Martin said he had also had a constructive meeting with the newly-formed Regional Independent Group made up of nine TDs.
"The clear message from the independents was that they wanted a stable government that would last five years to deal with the key issues of housing and health and regional economic development," he added.
"They have a strong focus on the imbalance in terms of how the country economically is developing."
He said his party will on Wednesday begin serious engagements with the Green Party on a range of policy issues.
'Preparing for opposition'
After the meeting, Fine Gael issued a statement on behalf of Mr Varadkar.
"The taoiseach and president of Fine Gael encouraged Fianna Fail to continue engaging with other parties with a view to forming a government.
"Fine Gael continues to prepare for opposition."
It said the two parties had agreed to meet again at some point in the future.
Sinn Fein leader Mary Lou McDonald said Sinn Féin had been given a mandate for change.
"People have told me that - people told me they voted for Sinn Féin because they wanted a new government," she added.
"They don't want Fianna Fail and Fine Gael back in government, they want a new approach to government, they want the priorities of ordinary working people to be put front and centre."
Sinn Fein TD Pearse Doherty insisted a left-wing government is still possible, saying: "For our part, change needs to mean change.
"We're keeping all options open in relation to forming a government for change - that's the mandate that we have."