William and Kate in Ireland: Royal couple visit Galway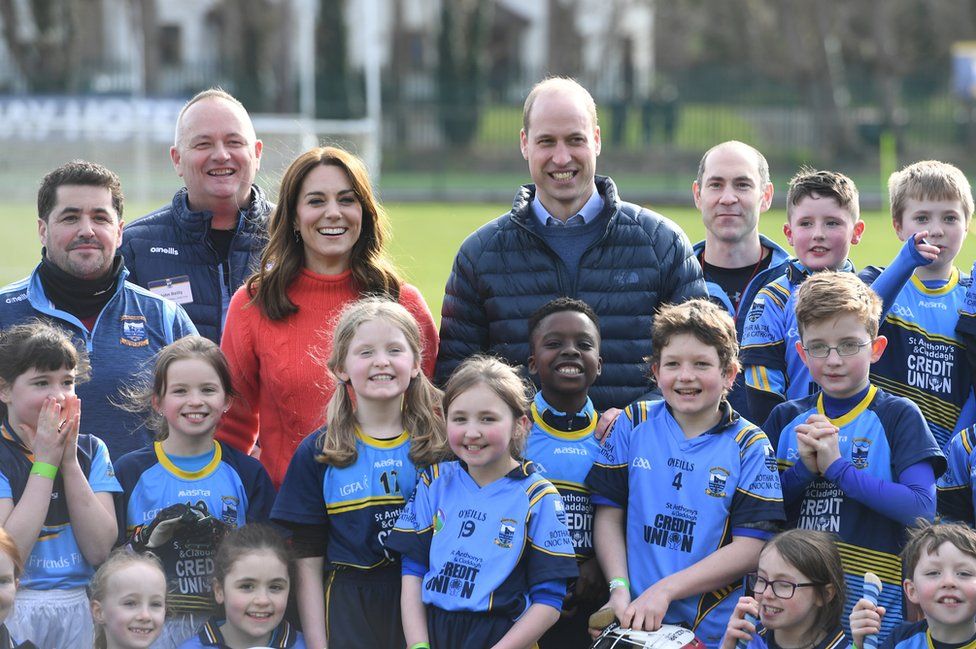 The Duke and Duchess of Cambridge tried Gaelic sports in Galway on the last day of their first official visit to the Republic of Ireland.
Prince William and Catherine visited a Gaelic Athletic Association (GAA) club in their final engagement on the trip.
They had earlier been briefed on Galway's appointment as the 2020 European Capital of Culture.
More than 300 well-wishers gathered in the city centre to greet the couple on their arrival on Thursday.
It was in Salthill where the duke and duchess were able to show off their athletic skills though, trying both Gaelic football and hurling.
Hundreds of volunteers spent the weeks leading up to the visit painting and refurbishing the club.
Members of the under-10 team joined the Royal couple in rounding off their bridge-building trip to Ireland.
William and Kate also went to the Tig Cóilí pub to meet members of Galway's volunteering community.
The duke had to apologise to his wife after finding a fellow Aston Villa fan in the bar and getting drawn into talking about football.
They also took a walk in the city centre, where they met some of the hundreds of people who had gathered to greet them.
Their visit to Galway featured a showcase of the city's 2020 European Capital of Culture programme.
They were introduced to projects such as Livefeed, which supports young people in Galway's music scene, and the Galway Community Circus.
On Wednesday, the duke and duchess took time out from official engagements to walk a coastal cliff path near Howth in County Dublin, bumping into some local people along the way.
The couple's visit to the Republic of Ireland began on Tuesday as they met the country's President Michael D Higgins and his wife at their official residence Áras an Uachtaráin.
Following the footsteps of Queen Elizabeth in 2011, the pair travelled to Dublin's Garden of Remembrance in Dublin.
There they laid a wreath with the handwritten message: "May we never forget the lessons of history as we continue to build a brighter future together."
They attended a reception at the Guinness Storehouse in Dublin and, like his grandmother, William spoke a few words of Irish, addressing guests by saying: "Ladies and gentlemen, a dhaoine uaisle [noble people]."
But unlike his grandmother, he took up the offer of tasting the Guinness when it was poured for him, uttering the Irish toast "sláinte" [health] as he raised his pint.
Later they met staff from the social justice charity Extern before going to Howth Marine Institute to learn about marine sustainability.
Wednesday's itinerary also included a visit to Ireland's Agriculture and Food Development Authority, known as Teagasc, and the Museum of Literature Ireland.