Coronavirus: Health worker among latest Ireland cases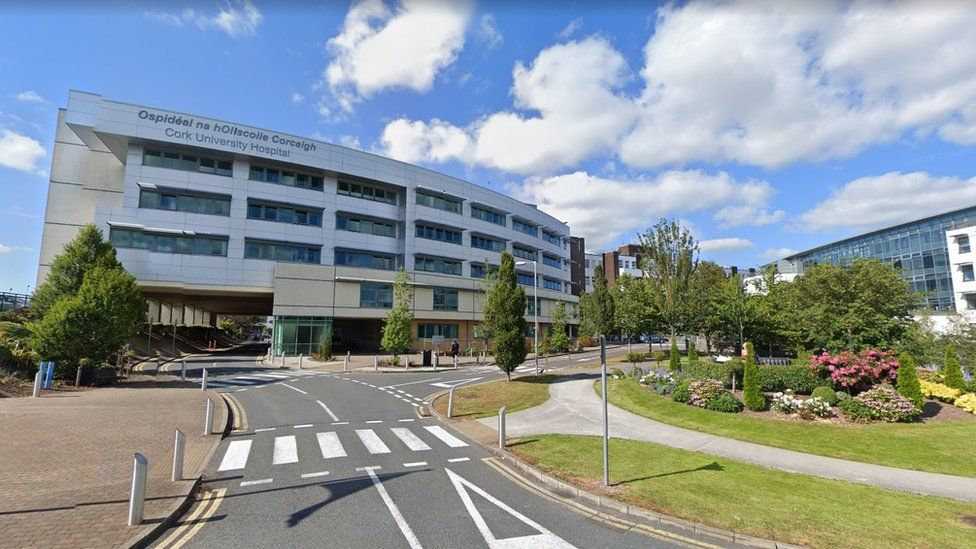 A health worker is among five more people who have been diagnosed with coronavirus in the Republic of Ireland.
The country's health authorities said on Friday evening that she had contact with a person who has the virus.
Earlier 60 staff at Cork University Hospital were asked to self-isolate after being linked to confirmed case.
Taoiseach (Irish Prime Minister) Leo Varadkar said his government was not ordering the cancellation of planned large events "at this stage".
His comment came after questions were raised about St Patrick's Day events in Ireland - the annual 17 March parade in Dublin attracts hundreds of thousands of tourists from around the world.
The head of the Garda Síochána (Irish police force) said his officers had the power to arrest people who refused to self-isolate.
Speaking on Friday, Drew Harris emphasised that for an arrest to happen there would need to be a "very extreme" situation.
In addition to the healthcare worker confirmed as having the virus, the latest Irish cases were diagnosed in:
a male in the east of the country who had travelled from northern Italy
a female from the south who had travelled from northern Italy
a male from the south whose travel history is being investigated
a female from the west who had contact with someone diagnosed with the virus
The Republic of Ireland's chief medical officer Dr Tony Holohan said the risk of contracting coronavirus "in the community is very low" but he added it was inevitable there would be more cases.
A male who was diagnosed with coronavirus on Thursday is being treated at Cork University Hospital.
His is the first case of community transmission in Ireland, meaning he contracted it without visiting an area already affected by the virus.
After the confirmed case at its facility, Cork University Hospital imposed "strict visiting restrictions" and cancelled outpatients' appointments on Friday.
Anyone who was recently in contact with the patient at Cork University Hospital has been traced and notified, according to Ireland's Health Service Executive (HSE).
Cork University Hospital has a workforce of more than 3,000 people.
Liam Woods of the HSE said coping without the 60 staff who are in self-isolation would be a significant challenge for the hospital.
He said other staff would be redeployed and hospital services would be adjusted.
Any Irish healthcare workers who return from countries in which there has been an outbreak of coronavirus will also be asked to self-isolate for 14 days.
Officials held a meeting in Dublin on Friday to discuss the outbreak in Ireland, with Mr Varadkar confirming they would monitor the situation.
Dr Holohan said events could be cancelled if health officials' advice indicated such a move should be made.
What do I need to know about the coronavirus?