Coronavirus: Europe plans full border closure in virus battle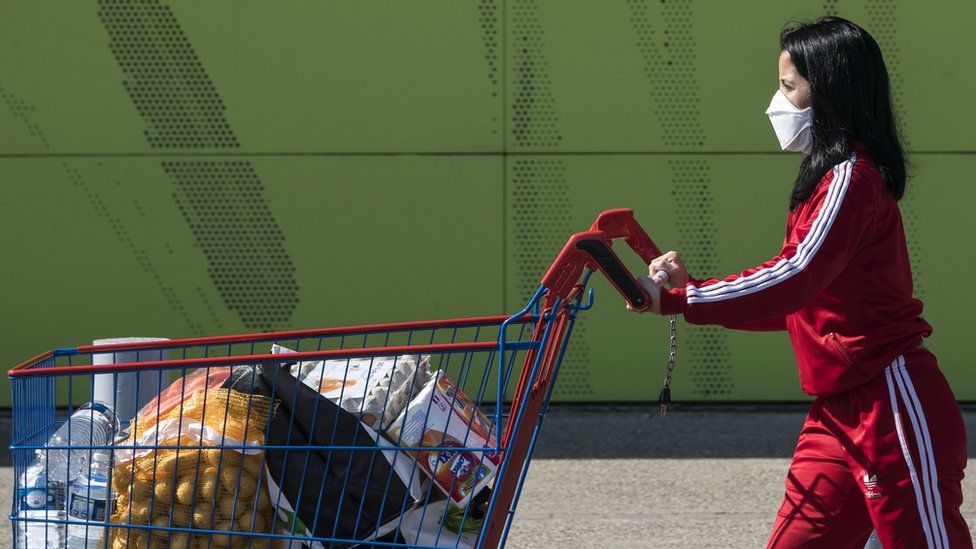 The European Commission is planning to ban all non-essential travel to the European Union after more countries within the bloc closed their borders to try to limit the spread of coronavirus.
Commission President Ursula von der Leyen said she would ask leaders to implement the measures on Tuesday.
"The less travel, the more we can contain the virus," she said.
Meanwhile, tough new measures in France restricting movement from the home are coming into effect on Tuesday.
What are the planned EU measures?
They were alluded to in French President Emmanuel Macron 's televised address to his nation on Monday. He said that "all trips between non-European countries and EU countries will be suspended".
Ms von der Leyen said that long-term residents, family members of EU nationals and diplomats would be exempt as well as cross-border and healthcare workers and people transporting goods.
The measures would be in place for at least 30 days.
Some 26 states are part of the Schengen agreement, which allows people to move freely between EU countries without border checks, but several countries have unilaterally closed borders in recent days in a bid to stop the spread of the coronavirus.
This prompted the commission to propose that the bloc act in a more unified fashion and restrict entry to the union as a whole, on the urging of Mr Macron.
Citizens of non-Schengen EU member states will also be invited to apply the travel ban. Travel with Switzerland and the UK will be preserved.
"It is more effective and less disruptive than measures to close borders within Europe, which must be avoided to allow cross-border workers to continue their activity and essential goods to circulate in Europe," said Mr Macron.
The proposal was to be discussed in a video-summit with EU leaders on Tuesday afternoon hosted by European Council chief Charles Michel.
Mr Macron has ordered people to stay at home and only go out for essential duties from 11:00 local time (12:00 GMT) on Tuesday. He said the previous measures, including the closing of schools, cafes and non-essential shops, had proved insufficient.
"Even while medics were warning about the gravity of the situation, we saw people get together in the parks, busy markets and restaurants and bars that did not respect the order to close," he said in the 20-minute televised address.
It was watched by a record 35.3 million people, Le Monde reported, 96% of the people watching TV at the time.
"We are at war... we're fighting neither another army nor our own nation. But the enemy is here, invisible, untouchable... and is advancing," he said.
The country will also close its land borders from midday (11:00 GMT) on Tuesday.
The restrictions in France will be in place for at least 15 days, Mr Macron said.
Citizens must carry a form spelling out their reasons for travel and the fine for transgressors will be set soon at €135 ($150; £123).
Some 100,000 civil servants and soldiers will be deployed nationwide to carry out checks.
President Macron also offered reassurance to businesses, saying: "No French company, whatever its size, will be exposed to the risk of collapse".
On Tuesday, Finance Minister Bruno Le Maire unveiled a €45bn ($50bn; £41bn) aid package to help businesses and affected employees. He said he was ready to use nationalisation if necessary.
France has so far registered more than 6,000 infections and 148 deaths.
The latest news outside Europe:
Voting on Tuesday in the Democratic primary in the US state of Ohio has been postponed, although voting is set to go ahead in Arizona, Florida, and Illinois
President Donald Trump said the coronavirus emergency could last until the end of the summer or even longer and that Americans over the next 15 days should not gather in groups of more than 10 and avoid bars, restaurants, food courts, gyms and crowds
China reported just one new domestic infection on Tuesday - but 20 more from people arriving from abroad. It also said it "strongly opposed" Mr Trump's reference in a tweet to the "Chinese virus"
Wuhan Zall, the Chinese football team based in the city that saw the virus originate, finally arrived back in China after being stranded in Spain since January - and were immediately quarantined
The Philippines became the first nation to shut its stock exchange indefinitely
A spokesman for the judiciary in Iran - the world's third-worst-affected nation, said some 85,000 prisoners, including political prisoners, had been temporarily released to try to combat the spread, AFP reports
Malaysia is barring people crossing the border with Singapore from Wednesday, sparking a rush on food stores in the city state, which depends on Malaysia for supplies
Scientists in Australia say they have identified how the body's immune system fights the Covid-19 virus
Chancellor Angela Merkel has banned religious services and told people to cancel any domestic or foreign holiday travel.
Venues including clubs, bars, leisure facilities, zoos and playgrounds will be closed. Restaurants will have to enforce a minimum distance between tables and work under restricted hours. Schools across the country have already been closed.
"The better everyone sticks to these rules, the faster we'll get through this phase," she said at a news conference in Berlin, vowing that the government would try to minimise the economic impact of the outbreak.
Germany now has close to 7,000 confirmed cases of coronavirus, and 14 deaths. Large gatherings nationwide had already been banned.
What else is happening in Europe?
Spain, now the fourth worst-affected nation, on Tuesday increased its death toll to 491 from 342. Confirmed cases rose from 9,942 to 11,178. It partially locked down its 47 million inhabitants on Saturday for 15 days
Italy, the worst-affected nation outside China, where the virus originated, announced another surge in deaths on Monday, past the 2,000 mark to 2,150, with more than 20,000 cases. The government meanwhile is set to renationalise flag carrier airline, Alitalia
Belgium on Tuesday doubled its death toll from five to 10
Sweden is to close all high schools and universities from Wednesday
Last week, the WHO said Europe was now the "epicentre" of the virus and urged governments to act aggressively to control the spread of Covid-19, the disease caused by the coronavirus.
The head of the WHO, Tedros Adhanom Ghebreyesus, also told other countries to follow the containment strategies used in China and South Korea, saying they showed the pandemic was controllable.
Please include a contact number if you are willing to speak to a BBC journalist. You can also contact us in the following ways: