Coronavirus: France offers subsidy to tempt lockdown cyclists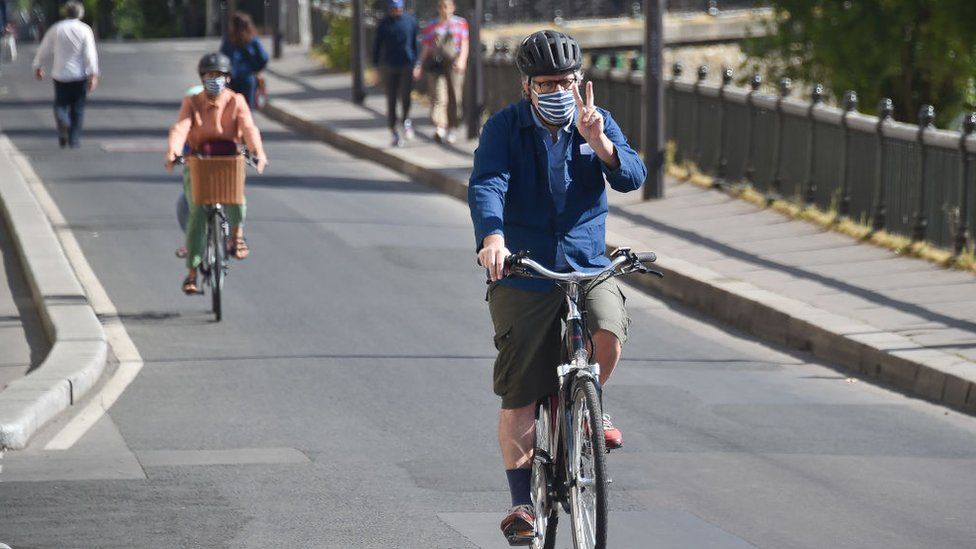 France is encouraging people to cycle to keep pollution levels low once lockdown restrictions end.
Under the €20 million (£17m; $21.7m) scheme, everyone will be eligible for bike repairs of up to €50 at registered mechanics.
The funding will also help pay for cycle training and temporary parking spaces.
Nations worldwide are grappling with ways to change urban transport in light of the coronavirus.
Moreover, pollution levels have dropped worldwide, and many are seeking to keep those levels low.
On Thursday the International Energy Agency (IEA) forecast a 6% drop in energy demand for the year - it said this would lead to a drop in carbon dioxide emissions of 8%, six times larger than the biggest fall in 2009 which followed the financial crash.
Elisabeth Borne, Minister for Ecological Transition, said the move was aimed at reducing driving when commuting or for short journeys to keep air pollution levels down once restrictions are lifted.
In normal times, 60% of journeys made in France are less than 5 kilometres [3 miles] - making bicycles "a real transport solution", she said.
Ms Borne announced the scheme in association with the Federation of Bicycle Users (FUB) on Wednesday.
They will register a network of more than 3,000 repairmen on the FUB website who will agree to fix any bike for up to €50, such as changing tyres or old chains.
Citizens will not receive a printed cheque, but will go to these registered mechanics who will then be reimbursed by the state. People will have to pay any additional costs out of their own pockets.
The rest of the funding will go towards temporary bike racks and cycling training and refresher courses. Local governments are also being encouraged to lay down bike lanes across the country.
What are European cities doing?
The French capital Paris is barring private cars from one of its major central roads, the Rue de Rivoli, which will instead have separate lanes for bicycles and for buses, taxis, emergency vehicles and certain deliveries.
The measures will remain in place for the duration of the pandemic but should they prove successful they will be made permanent, Mayor Anne Hidalgo said on Thursday.
Paris is also aiming to create cycle routes along the paths of its three busiest Metro lines, she said.
The aim was to prevent the city being "swamped by cars, synonymous with pollution", she was quoted by Le Monde newspaper as saying.
The Belgian capital Brussels on Wednesday announced the creation of 40km of additional cycle paths to ensure fewer people use public transport as restrictions are relaxed.
And the Italian city of Milan, which is in the worst-affected region of Lombardy, has begun reallocating space on some of its major roads for walking and cycling.
It is widening pavements, adding 35km of cycle lanes and encouraging the use of scooters as a way of pushing alternatives to car use. The Milan subway's capacity is to be reduced by up to 30% to ensure all passengers are able to stay a metre away from each other.
And in the German capital Berlin, the authorities have temporarily widened some cycle lanes.