Coronavirus: Alarm as crowds flock to European beaches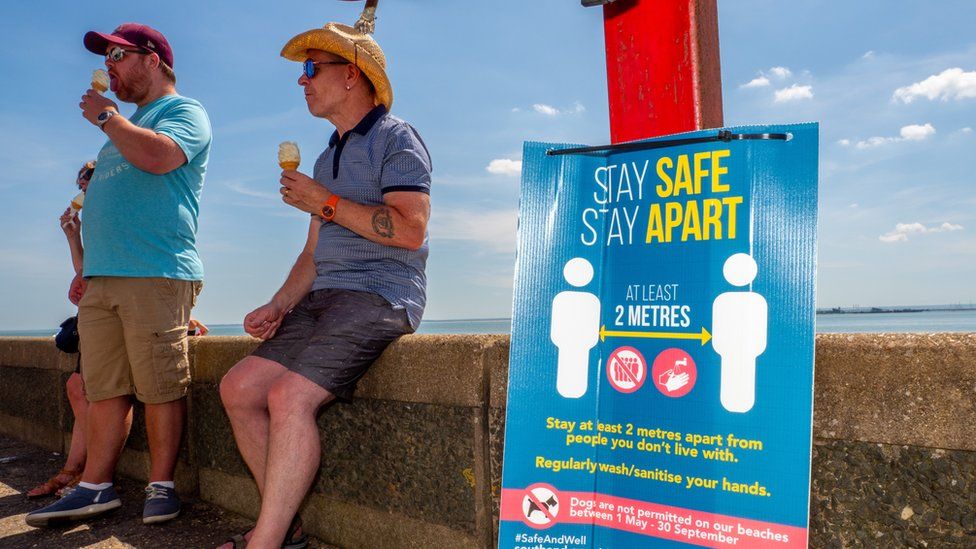 A surge in visitors to beaches in northern Europe after coronavirus lockdowns were eased and temperatures rose has alarmed officials and experts.
Three towns in north-western France shut their beaches on Wednesday because of the "unacceptable" failure of people to observe social-distancing rules.
Municipalities in the Netherlands urged German tourists not to visit.
And in England, the town council in Southend said it might take action after sunseekers flocked there.
The number of confirmed cases of Covid-19 around the world has now passed five million, but the number of new infections has been falling across most of Europe.
European countries had reported 1.74 million cases and 164,349 deaths as of Wednesday, according to the European Centre for Disease Prevention and Control. Those with the most fatalities are the UK, Italy, France, Spain and Belgium.
The World Health Organization (WHO) has warned that there is "still a long way to go in this pandemic", and called on people in countries where restrictions are being eased to continue to adapt their behaviour to minimise transmission of Covid-19.
The authorities in France reopened hundreds of beaches last weekend for running, swimming and fishing, but not for sunbathing or picnicking.
Several municipalities in the Netherlands meanwhile called on German tourists not to cross the border for a trip during the Ascension Day public holiday on Thursday.
People also headed to beaches across England on Wednesday on the hottest day of the year so far, a week after lockdown rules were eased. But people in England should not travel to Wales, Scotland or Northern Ireland, where the public is still being told to avoid any travel which is not essential.
A care worker's tweets expressing concern at the pictures from Southend-on-Sea, in Essex, were shared 20,000 times.
The BBC is not responsible for the content of external sites.
On Wednesday, European Union tourism ministers agreed to do "whatever it takes for the quick and full recovery of European tourism".
They broadly backed plans spelt out by the European Commission that the bloc's internal borders should come down in phases, based on the prevalence of Covid-19 in countries of origin and destination.
Please include a contact number if you are willing to speak to a BBC journalist.