Varadkar: Ireland's plans for second Covid-19 wave begin
By Shane Harrison
BBC NI Dublin correspondent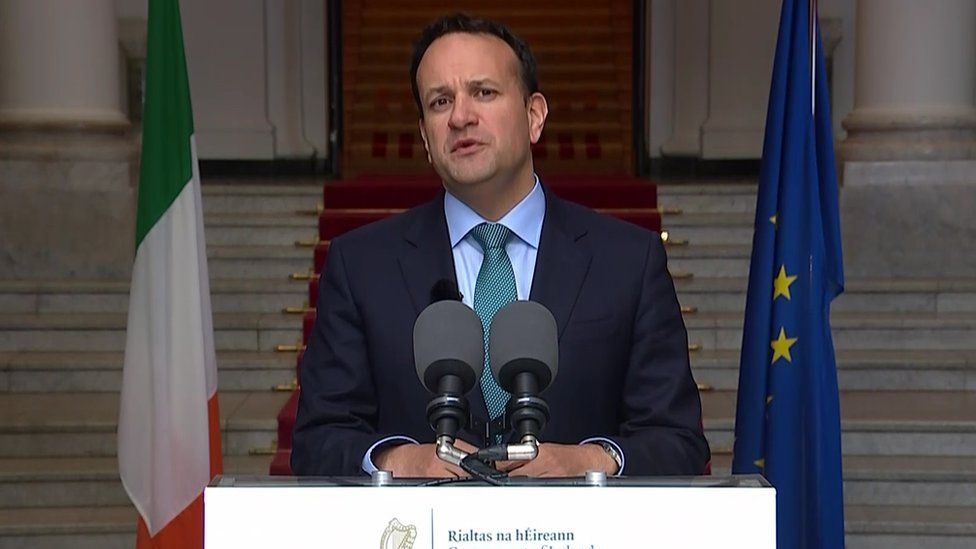 Work has begun on preparations for a second wave of Covid-19 in the Republic of Ireland this autumn or early winter, the taoiseach (Irish PM) has said.
Leo Varadkar told the Dáil (Irish parliament) phase one of easing restrictions was "going well" with "broad compliance" across the country.
However, he added that continued "vigilance" was still required.
It comes as Irish Health Minister Simon Harris announced that the R-number is down to about 0.5.
R refers to the average number of people someone with Covid-19 is expected to infect after contracting the virus.
Mr Varadkar also defended the pace in Ireland, saying the government stands over its "slow and steady" approach.
In terms of preparations for a second wave of coronavirus in the autumn, Mr Varadkar said: "We need to know, if possible, how to better protect nursing homes."
The state now has a capacity for 100,000 tests a week, Mr Varadkar said, and a turnaround time for most cases of one to three days.
He added that the cabinet will decide on 5 June whether to move to the second phase of the relaxation due on 8 June.
That is when the current 5km travel limit is to be extended to 20km and other business in which social distancing can be observed will reopen.
In terms of infrastructure, he said Covid-19 is going to impose extra costs. "It's going to cost more to do less," he said.
He told the Dáil that substantial borrowing will continue to be necessary.
"We don't have to be the best in the fiscal class," he said, but added that the Republic should follow the example of northern European countries.
"There's no such thing as free money", he said. Interest will have to be paid and added that there was "no guarantee" that low inflation and interest rates would continue.
He also said many parts of the Irish economy might never look the same again, with Brexit further complicating matters.
The health minister told the Dáil the R-number is now about 0.5.
Mr Harris said modelling being done by mathematicians for the Department of Health suggested the number is between 0.45 and 0.63.
He also said that on Friday he will update the government on travel measures at airports and ports.
"Regardless of anyone's nationality, when you come through an airport or port now you will need to fill out a passenger's location form whereby a person is asked to self-isolate for two weeks and provide the state with an address where they will self-isolate," he said.
"This is the land of the cead míle fáilte (a hundred thousand welcomes) but now is not the time for non-essential travel."