Carlos Ruiz Zafón: Shadow of the Wind author dies at 55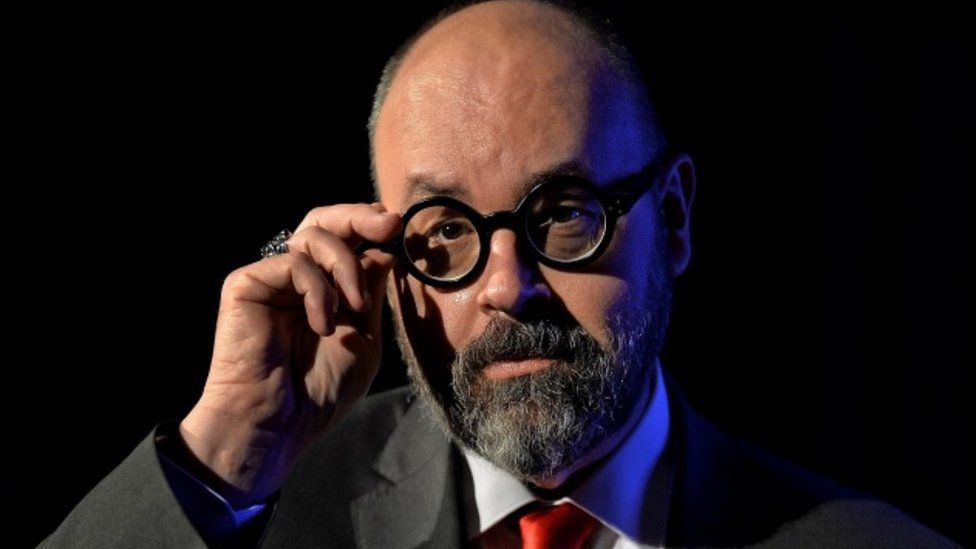 The celebrated and world-renowned Spanish novelist Carlos Ruiz Zafón has died in Los Angeles, aged 55.
He had been ill for several years with cancer.
His Barcelona-based mystery The Shadow of the Wind (La sombra del viento) was an international hit in 2001, published in 50 countries.
It was the first in a four-part cycle called Cemetery of Forgotten Books. His work was strongly influenced by crime fiction and cinema.
Born in 1964, he grew up in a flat near Barcelona's Sagrada Família basilica. Its irregular, highly innovative design became part of his fiction, which he populated with mythical creatures such as dragons.
Zafón studied information technology and had a passion for cinema - indeed his screenplays for movies were highly acclaimed, though he made his name as a novelist.
After working for several advertising agencies he devoted himself to literature, winning an award for his first work - The Prince of Mist (1993) - written for young adults.
Other young adult fiction followed, before The Shadow of the Wind, his first novel for adults. He moved to Los Angeles in 1994.
The legendary, labyrinthine Cemetery of Forgotten Books has its Gothic origins in the 15th Century.
Spain's Prime Minister Pedro Sánchez tweeted his condolences to the author's family.
"One of the most widely read and admired Spanish authors has left us," he said, adding that Zafón was a "key novelist of our era" who had "made a major contribution to contemporary literature".
Opposition Popular Party leader Pablo Casado said Zafón had been an "exceptional narrator who transported readers to all corners of his great works".
Writer and translator Elvira Sastre Sanz recalled "reading his books hidden among the textbooks in the middle of exams. I couldn't let them go".
She added: "Let's give his books as gifts: it is the best tribute."
Novelist Blas Ruiz Grau said his love of books was kindled by Zafón's The Prince of Mist. "I really feel his loss," he said.
British writer and novelist Stephanie Merritt also paid tribute to the author in a Twitter post.
The BBC is not responsible for the content of external sites.