Belarus election: President Lukashenko set to claim landslide win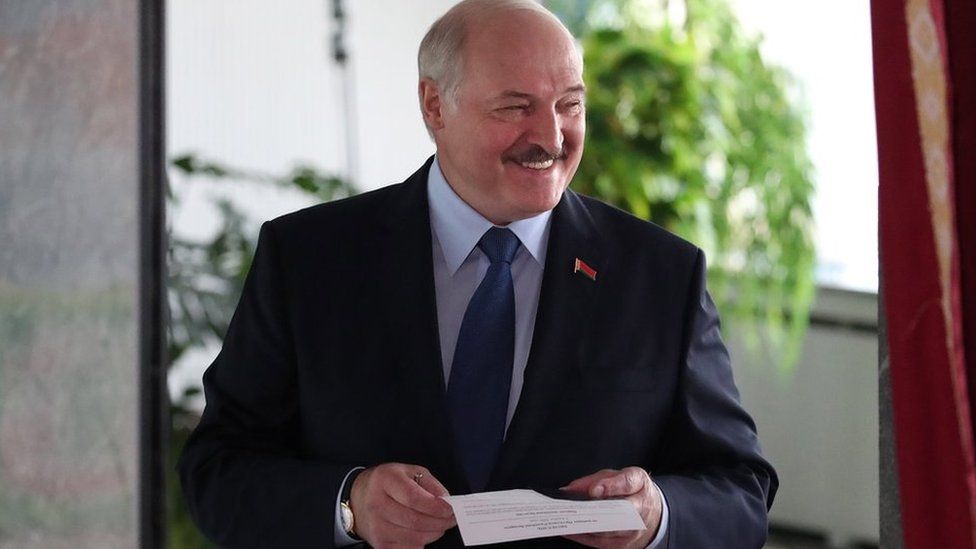 The long-time leader of Belarus, President Alexander Lukashenko, appears set to declare a landslide victory in an election that saw his toughest opposition challenge in years.
Svetlana Tikhanovskaya, 37, entered in place of her jailed husband and went on to lead large opposition rallies.
But a state TV exit poll showed Mr Lukashenko winning 79.7% of the vote.
The opposition had said it expected the vote to be rigged. Protesters have already clashed with police.
Squares and streets in the capital Minsk were earlier sealed off by police as Mr Lukashenko vowed that the situation would remain "under control".
After voting on Sunday, Mr Lukashenko said he did not see Ms Tikhanovskaya as a threat, and denied imposing repressive measures on the opposition.
"They are not worth enough to carry out any repression against them," he said.
Ms Tikhanovskaya was greeted by an excited crowd chanting her name when she cast her ballot in Minsk earlier on Sunday.
Voting was extended at some polling stations due to long queues.
The exit poll reported on television, which was conducted by a pro-government organisation, showed Ms Tikhanovskaya receiving just 6.8% of the vote.
In a news conference on Sunday evening, Ms Tikhanovskaya said she did not trust that Mr Lukashenko had really won the election.
"I believe my eyes, and I see that the majority is with us," she said.
Protests erupted following the exit poll, with people detained in the capital and other cities across the country, according to media reports.
Internet monitoring group NetBlocks said connectivity had been "significantly disrupted", with the situation worsening throughout the day and creating an "information vacuum".
The head of the election commission, Lidia Yermoshina, urged Ms Tikhanovskaya to accept defeat calmly.
The first official results are expected on Sunday night. The opposition said it would keep an alternative count.
Sometimes referred to as Europe's last dictator, President Lukashenko, 65, was first elected in 1994.
This year's election is being held amid growing signs of frustration at his leadership.
The campaign saw the rise of Ms Tikhanovskaya, a former teacher who became a stay-at-home mother until she was thrust into the political spotlight.
After her husband was arrested and blocked from registering for the vote, she stepped in to take his place.
In the lead-up to the election she told the BBC that people in Belarus did not believe the election would be run fairly.
"But I still believe that our president will understand that his time is over. People don't want him anymore," she said.
President Lukashenko has dismissed Ms Tikhanovskaya as a "poor little girl", manipulated by foreign "puppet masters".
Tens of thousands defied an escalating crackdown on the opposition last month to attend a protest in the capital Minsk, the largest such demonstration in a decade.
Since the start of the election campaign in May, more than 2,000 people have been detained, according to Human Rights Centre Viasna.
There were already concerns over a lack of scrutiny because observers were not invited to monitor the election and more than 40% of votes were cast ahead of election day.
There are three other candidates:
Two key opposition figures were barred from running and threw their weight behind Ms Tikhanovskaya's campaign.
One of them, Valery Tsepkalo, fled Belarus ahead of the contest, fearing arrest. His wife Veronika stayed behind, becoming a key campaigner for Ms Tikhanovskaya.
It emerged on Sunday that Ms Tsepkalo had also now left Belarus for Moscow, for "safety" reasons.
Anger towards Mr Lukashenko's government has been in part fuelled by the response to coronavirus.
The president has downplayed the outbreak, advising citizens to drink vodka and use saunas to fight the disease.
Belarus, which has a population of 9.5 million, has had nearly 70,000 confirmed cases and 600 deaths.