Belarus opens criminal case against opposition leaders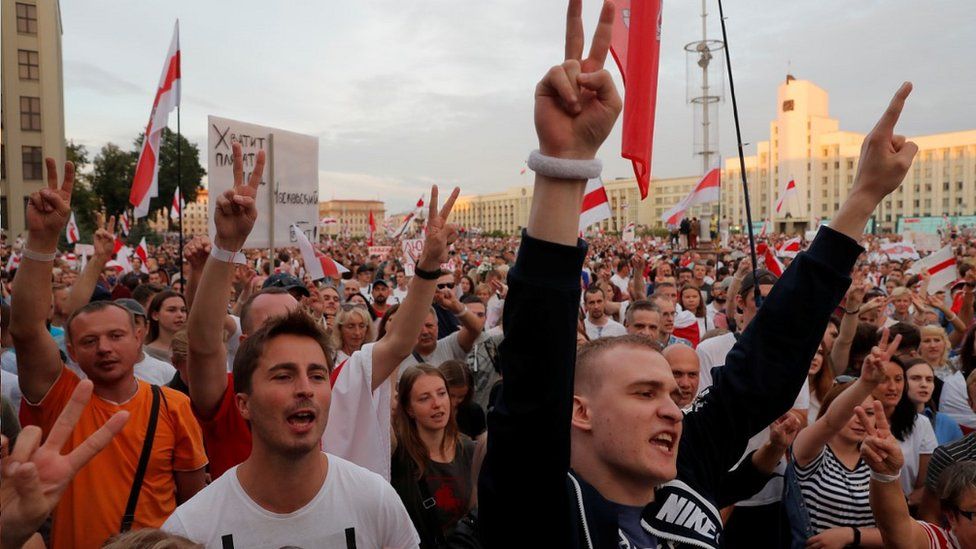 The Belarus chief prosecutor has launched a criminal case against opposition leaders, accusing them of trying to seize power.
The indictment from Alexander Konyuk says the "creation and activity of the [opposition] Coordination Council are aimed at seizure of state power, and at harming national security".
Earlier President Alexander Lukashenko ordered police to end the mass protests against him in the capital Minsk.
His 9 August election win is disputed.
Opposition leader Svetlana Tikhanovskaya, currently in neighbouring Lithuania, announced the creation of a Coordination Council to ensure a transfer of power. She also asked foreign governments to "help us in organising a dialogue with Belarusian authorities".
Chief prosecutor Konyuk read the indictment against the council in a video statement, saying "the creation of such bodies is not allowed in law, and they are unconstitutional.
"Several citizens, realising that such activities are illegal, have said they are quitting the council and disagree with its aims."
There have been 12 days of street protests over Mr Lukashenko's landslide victory, which has widely been dismissed as fraudulent.
The results have been rejected by major international powers. On Tuesday, EU leaders agreed to impose sanctions against Mr Lukashenko.
Maxim Znak, a member of the Coordination Council presidium, said several council members had announced they were leaving the new body, following the authorities' accusations against it.
But Nobel Prize-winning author Svetlana Alexievich, a vocal critic of Mr Lukashenko, is remaining in the presidium, Mr Znak told Interfax news agency. The council met on Wednesday.
Fears of arrest as initial optimism wanes
By Jonah Fisher, BBC News, Minsk
Much of Belarus's opposition is already in jail or, in the case of presidential candidate Svetlana Tikhanovskaya, in exile out of the country.
So the opening of this criminal case could pave the way for the arrest of many of those who remained. Appointed by Ms Tikhanovskaya, the Coordination Council members are a mix of artists, civil society figures, journalists and business people.
Thoughts here in Minsk have already started to turn towards the weekend. Last Sunday a huge demonstration of several hundred thousand people galvanised the opposition. Another Sunday rally is planned and it appears that President Lukashenko is determined to avoid a repeat.
After a period in which the Omon riot police largely withdrew from view, they have now been ordered back on the streets.
The thuggery of the first few days after the election hasn't returned but understandably people are cautious. The heady optimism of just a few days ago has quickly receded.
Ms Tikhanovskaya told EU leaders via video that the Coordination Council would lead the process of a "peaceful transition of power via dialogue" and call for "new, fair and democratic presidential elections with international supervision".
But on Wednesday, Mr Lukashenko approved a cabinet that would see Roman Golovchenko retain his role as prime minister, with many other key members of the previous government reappointed, the Tut.by news network reported.
Among those on the list to remain in place was Interior Minister Yuri Karayev, whose responsibilities include policing and public security.