France Covid-19: Paris compulsory face-mask rule comes into force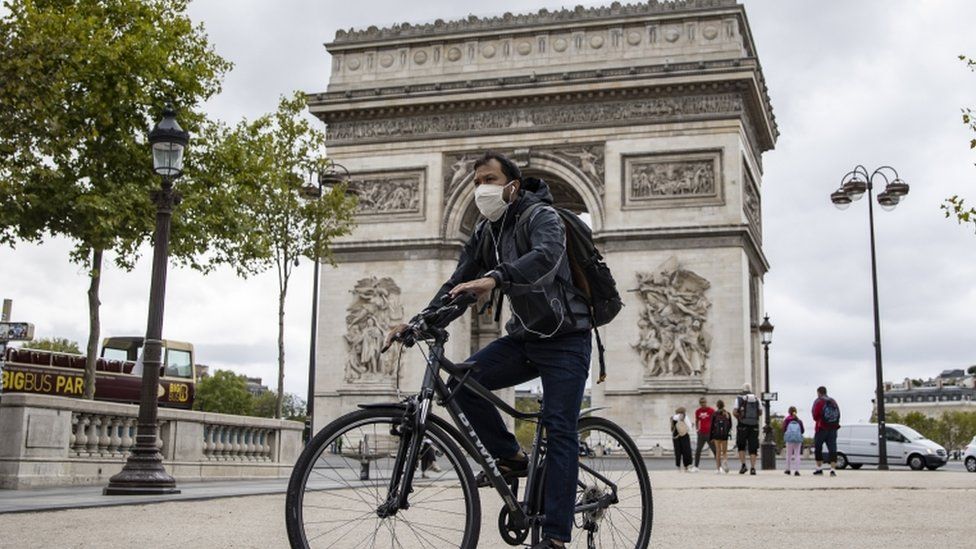 Wearing a face mask in public has become mandatory across Paris and several surrounding areas, amid a surge in Covid-19 cases in France.
On Friday the country recorded 7,379 new infections - its highest number since early May.
The number of "red zones" where the virus is in active circulation has risen from two to 21.
Announcing new local curbs on Thursday, PM Jean Castex said he wanted to avoid another general lockdown.
He said the coronavirus was "gaining ground" across France, and that if the government did not act fast infection growth could become "exponential".
Despite a sharp rise in cases in recent weeks, daily death tolls have remained low. Overall, more than 30,500 people have died and almost 300,000 have been infected in France.
A number of European countries are seeing a surge in new cases, and Germany is also planning tighter rules.
Chancellor Angela Merkel warned on Friday that in the coming months things would become "even more difficult than now", as people have been able to enjoy life outdoors over the summer.
The French prime minister said all pedestrians would have to wear face masks in public areas in the capital from 08:00 on Friday (06:00 GMT).
While individual streets and areas of the capital already have rules on wearing face coverings, this new rule will be far more extensive, covering not only Paris but its inner ring of Seine-Saint-Denis, Hauts-de-Seine and Val-de-Marne.
Last-minute reprieve for cyclists and joggers
Mask-wearing has taken over the streets of Paris by stealth over the past few months, and the blanket enforcement of face masks in and around the capital from 08:00 triggered little real outcry, except for one thing: the new rules were originally designed to apply to cyclists and runners, along with pedestrians.
By the time the regulation came into force this morning, Paris city hall had intervened, and won a reprieve, saying it was "dangerous" and "counter-productive" to force these two groups to wear masks, especially when the mayor had been encouraging people to cycle to work to relieve pressure on public transport.
Runners and cyclists aside, only a handful of people were still out without a mask in my neighbourhood this morning, and there seems to be a lot of support for the measure around the capital.
"It's better than being locked down," one woman said. Another resident said the government should have brought it in earlier, so that "the situation wouldn't have got as bad as it is now".
Asked on Friday if smokers could take off the mask to have a cigarette, Paris Deputy Mayor Anne Souyris made clear this was not the case.
"You're not allowed to smoke on the street without a mask; you can't take it off, so you must find another way," she told the Cnews channel.
Paris is already a red zone, along with the southern area of Bouches-du-Rhône, where France's second-largest city Marseille made masks compulsory from Wednesday evening.
A broad expanse of the Mediterranean coast and the Gironde area around Bordeaux are also red zones.
Masks will also become part of normal life for French schoolchildren aged 11 and over. The World Health Organization (WHO) has recommended use of masks in school from the age of 12.
Masks are already required in most enclosed public spaces and will be mandatory in workplaces from next week.
However, the two biggest cities in the Netherlands have decided to scrap a pilot scheme for compulsory masks in their busiest areas on Monday.
The Amsterdam and Rotterdam authorities say they may bring back the requirement if necessary, but they believe that as the warm weather and high tourist season come to an end it will be easier to maintain social distancing of 1.5m (5ft).
What has Germany decided?
Masks are a key part of Germany's tougher restrictions aimed at curbing a renewed rise in cases.
Although Germany has not seen the scale of Covid-related deaths as many other Western European countries, the federal government and 16 states have reached a deal on new measures:
A minimum €50 (£45) fine will be slapped on anyone breaking rules on face coverings - in shops, public transport or elsewhere; Lower Saxony in the north-west will not impose fines but Bavaria in the south will set higher penalties
Big events will be banned until the end of the year, although regions will be exempt if they have a low infection rate and participants are limited to those areas
A working group will be set up to discuss Bundesliga football matches, but no spectators will be allowed in until at least the end of October
There will be an end to free tests for holidaymakers returning from high-risk countries after 15 September. Travellers already have to self-isolate for 14 days. Bavaria will continue free testing until 1 October.
During her summer press conference on Friday, Mrs Merkel said Germans would "have to live with this virus for longer" and maintain vigilance, especially as the number of infections had risen in recent weeks. Another 1,571 cases and three more deaths were reported on Friday.
Meanwhile, a group called "Querdenken" (Think outside the box) is challenging a Berlin ban on a march on Saturday against Covid-19 restrictions. The protest has already seen 22,000 people sign up.
A march on 1 August attracted around 20,000 people, made up of mainly Covid-deniers and far-right activists.